Rangers' SFA membership hopes hanging in the balance

By Chris McLaughlin
Senior Football Reporter, BBC Scotland
Last updated on .From the section Football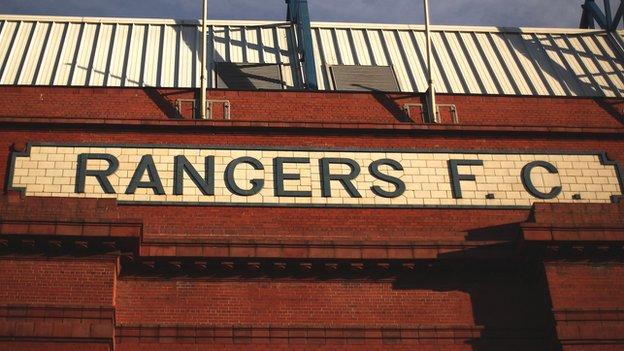 A stand-off over media rights and a possible stripping of titles threatens to scupper Rangers' hopes of Scottish Football Association membership.
The SFA said on Friday that the new Rangers agreed to a transfer embargo in return for a licence to play.
BBC Scotland understands two obstacles remain before a deal can be agreed.
Rangers want the Scottish Premier League to drop their investigation into dual contracts and the SPL wants the SFL to hand over Rangers' media rights.
There must be a five-way agreement between the SFA, SPL, Scottish Football League, old Rangers and new Rangers before any deal is ratified.
The SPL want an independent commission to rule on whether Rangers broke the rules during previous campaigns by paying players with so-called side contracts.
They are due to hand over their findings to that commission on 10 August.
But Rangers fear an independent commission could strip them of titles and believe they have already been sufficiently punished.
The Rangers manager Ally McCoist has already said that he will never accept the stripping of titles.
It is understood the club will not sign up to the agreement with that threat hanging over them.
However, the SPL are digging their heels in over media rights.
It is believed broadcasters are not keen to sign up to an SPL deal without having the rights for Rangers in the Third Division.
For that reason, the SPL want the SFL to hand over the rights for a price.
They say that without the broadcasting deal in place, they cannot pay the SFL their annual £2m settlement fee that was agreed back in 1999 when the top clubs split from the league to form the SPL.
But Rangers and the SFL want to hold onto the rights and all parties are currently at a stand-off.
Talks will continue next week to try to find a solution but several parties involved believe a deal is a long way off.
Rangers are due to play their first match against Brechin in the Ramsdens Cup next weekend but that match cannot go ahead without SFA membership.