Michael Carrick would 'consider' return to England set-up
Last updated on .From the section Football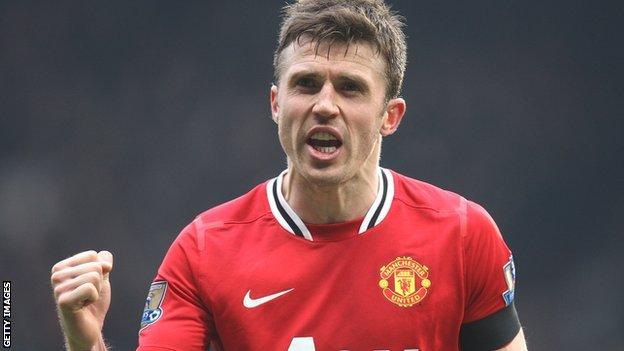 Manchester United midfielder Michael Carrick remains undecided on his international future, but has not ruled out a return to the England set-up.
"I've had no contact from Roy Hodgson, so it would be wrong of me at this stage to make a decision either way," Carrick said.
"But I would consider it, definitely."
The former Tottenham man, who earned the first of his 22 caps in 2001, came in for some criticism prior to Euro 2012 when it emerged he had asked not to be considered for selection.
Despite winning four Premier League titles and the Champions League during his six-year tenure at Old Trafford he has largely been overlooked by England.
When Frank Lampard and Gareth Barry both sustained injuries that ruled them out of Euro 2012, Roy Hodgson turned to the relatively inexperienced duo of Jordan Henderson and Phil Jones to act as deputies to Steven Gerrard and Scott Parker.
Hodgson did reveal Carrick would likely have made his standby list but for the player himself stating that he did not wish to be involved in such a capacity for his country.
"I didn't kick the door down and say: 'You've got to play me or I'll leave'," Carrick said. "It was more that if I wasn't going to play [at Euro 2012], I'd rather not go.
"During the World Cup I never featured and I was never really close to playing. That was a hard time. I just thought if it was going to be the same scenario again, I'd rather let someone else go in my place."