Rangers resume membership discussions with SFA
Last updated on .From the section Football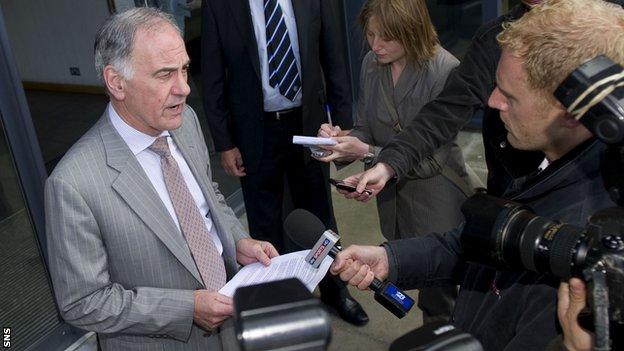 Rangers resumed talks over the club's bid for membership of the Scottish Football Association on Monday.
The Scottish Football League will also examine offers from the Scottish Premier League for the rights to Rangers' matches in the Third Division.
"If the SPL happen to be one of the bidders we will assess that," said SFL chief executive David Longmuir.
He added: "They are at liberty to pitch to us as anyone else. We will look at the options we have on Monday and Tuesday."
It has been reported that broadcasters are not keen to sign up to an SPL television deal without having access to Rangers newco's matches as part of the overall offering.
If SPL chief executive Neil Doncaster is unable to include Rangers' rights in any media proposal, the SFL could lose out on their annual £2m settlement fee that was agreed in 1999 when the top clubs split from the league to form the top-flight.
However, before signing the transferrance of membership agreement with the SFA, the Ibrox club wants the SPL to drop its investigation into alleged dual contracts that may have taken place under the old company's Employee Benefit Trust scheme.
There is also an issue over whether the new company's associate SFA membership will carry benefits such as voting rights on issues surrounding media rights.
The SFA, SPL, SFL, Rangers oldco and Rangers newco must all reach agreement before any deal can be approved, but the club is scheduled to play its first match against Brechin in the Ramsdens Cup on Saturday.
The SFL's media agents, IMG, has invited bids from interested parties with a deadline of Monday 23 July.
The SPL wants an independent commission to rule on whether the previous club's administrators breached regulations with alleged undisclosed payments to players between 2001 and 2010, which could result in the club being stripped of the trophies won during that period.
On Saturday, Rangers newco manager Ally McCoist said he would "never accept" stripping the club of titles and insisted that the club had already accepted numerous punishments which were making the rebuilding task more difficult.