Chelsea: Roberto Di Matteo to oversee changing of the guard
By Mandeep Sanghera
BBC Sport
Last updated on .From the section Football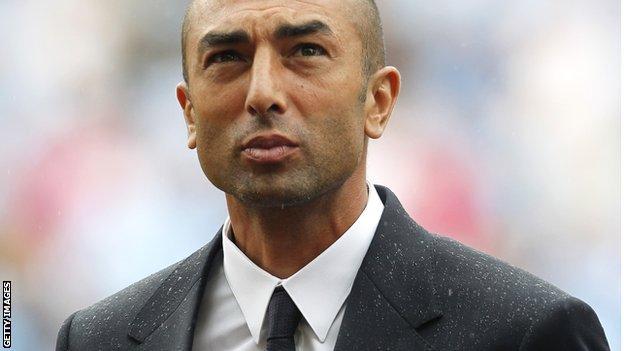 Chelsea owner Roman Abramovich achieved one long-standing ambition when the Blues won the Champions League last season.
However, the Russian billionaire remains unsatisfied.
So unsatisfied, it would seem, that he has funded a reported £65m summer spending spree to chase the rest of a dream in which Chelsea, renowned more for the power of their game than panache, earn success with a more attractive brand of football.
Former manager Andre Villas-Boas was drafted in to implement such a strategy last summer but the Portuguese was quickly discarded when he could not combine the process with winning results.
When Roberto Di Matteo came in as caretaker boss to replace Villa-Boas in early March, the Italian reverted Chelsea to the type Jose Mourinho had designed.
Di Matteo got Chelsea defending with obduracy, while utilising the marauding Didier Drogba and midfield runners to punish teams on the counter-attack or from set pieces.
The ploy worked as a faltering season ended on two glorious notes. Chelsea beat Bayern Munich in the Champions League final and claimed the FA Cup with victory over Liverpool and Di Matteo was rewarded with the manager's job on a permanent basis.
The task now facing the Italian is the one Villas-Boas could not complete: to not only bring trophies to Stamford Bridge but, in the process, excite and exhilarate.
"Roman Abramovich does not speak to many people but I don't think it is a big secret that he feels that way," former Chelsea winger and BBC pundit Pat Nevin said.
"I think he is quite open about that. He wants them to change. He has spent a lot of his own money and he would like to go along and enjoy it.
"The way you enjoy it is to win and be entertaining. Chelsea, to some degree, were so but it wasn't up to the level of some other teams. Roman wants that now.
"He not only wants winning but winning with style.
"There is a pressure to do that now. It's understandable because if you want to be a world brand and one that is going to be grown, you need to be loved and the best way for that is to win and be entertaining."
Di Matteo, whose side were beaten 3-2 by Premier League champions Manchester City in Sunday's Community Shield, is more circumspect when it comes to the speed of change at Chelsea.
He is preaching a scenario of evolution as opposed to revolution with no "radical" changes.
However, that may be a case of smoke and mirrors, especially when it comes to the attacking side of their play.
Abramovich has spent a substantial amount on new signings Marko Marin,Eden Hazard and Oscar in the hope of getting the best out of £50m striker Fernando Torres.
The trio of signings are more fleet of foot than forceful in their play and the hope is they can create the chances from which the up-to-now struggling Torres can profit.
Unlike last season though, Di Matteo does not have the safety net of calling on Drogba if it does not work out as planned, with the Ivorian departing to China.
"Last season, Chelsea were playing 4-3-3 and getting the ball up to Didier Drogba a lot of the time," Nevin said. "It was power play and, while I wouldn't say it was the antithesis of the football Barcelona play, it was different from the passing game.
"You can only do that with Drogba or a player of that type and they haven't got that now, so Di Matteo has got to change. Torres is a different type of player and you need creative players around him to make chances for him.
"I suggest they will line up with a 4-2-3-1. I think Chelsea's style will become much more inventive than it has been before purely because of the players they have bought."
So, while Di Matteo confounded his critics with his exploits last season, can he bring in silverware with the addition of fluency and flamboyance?
"If you would have asked me last season if Di Matteo could win the FA Cup and Champions League with that group of players I would have said no," Nevin said. "He has done much better than I ever expected him to do so far.
"It is almost purely dependant on how well Oscar, Marin, Hazard and Juan Mata develop.
"I don't know if they are going to be good enough. I kind of hope they are as each of those players has got fantastic skills, but whether they will be able to do it in the Premier League is uncertain.
"I hope they can because that would be a great way to watch football."