Title-winning Diamond Stars finally end Freetown reign
By Mohamed Fajah Barrie
BBC Sport, Makeni
Last updated on .From the section Football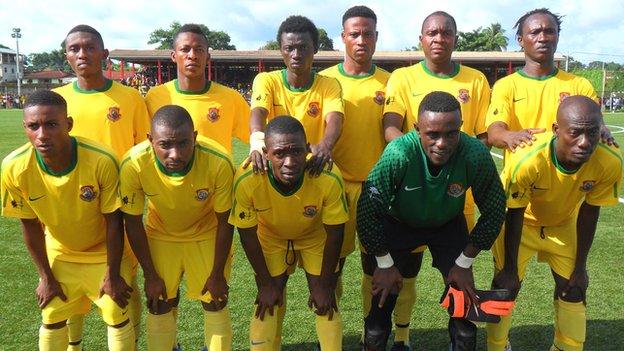 Diamond Stars FC of Kono created Sierra Leonean football history on Sunday when becoming the first team from outside the capital Freetown to win the title.
The club from the east of the country defeated Freetown City 2-1 on Sunday to clinch the championship.
The title was won after nearest challengers Kallon FC drew with East End Lions in a game they had to win.
The team from the diamond-rich district will now play in the African Champions League for the first time.
"We deserved to win the league because our players did their best throughout the season and they were well motivated," coach Lamin Bangura told BBC Sport.
With only one stadium in the capital Freetown, Diamond Stars' away clash with Freetown City was moved to Makeni so that the game on the final day of the season could kick off at the same time as FC Kallon's.
The stadium was packed with thousands of fans who travelled from Kono in what has been described as the biggest movement of people from the area since Sierra Leone's decade-long civil war ended in 2002.
Some 5-6,000 were in attendance at Makeni's Wusum stadium.
Afterwards, coach Bangura - a former Sierra Leone international - said the team's success was not just built on hard work and motivation.
"We are the best sponsored team in Sierra Leone and it has transformed our team," he said. "I'm happy that I'm the first coach to take Premier League trophy to the provinces."
This is the first major national trophy for Diamond Stars, a club that has represented Sierra Leone before on the continent - when contesting the now defunct African Cup Winners Cup and Caf Cups in the 1990s.
Stars reached the quarter-finals of the 1994 Caf Cup, despite having been forced to relocate to Freetown at the time because of civil war.