Igesund determined to revitalise South Africa
Last updated on .From the section Football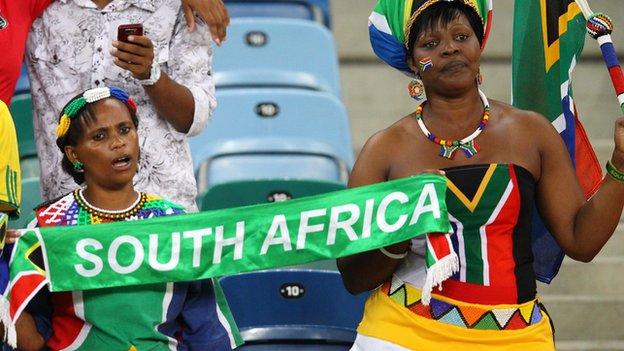 New South Africa coach Gordon Igesund has made it his priority to restore the team's self-belief and win back the support of the country.
Bafana Bafana's confidence is at an all-time low after they went eight games without a win before beating a weakened Gabon in June and to make matters worse, the media and fans have all but given up on them.
But with just over over a month before he names his first squad for September's friendly against Brazil in Sao Paulo, the 55-year-old Igesund has already started to change attitudes.
Almost immediately after being appointed the 17th different national coach since South Africa's readmission to international football in 1992, Igesund has gone on a charm offensive.
He has made public appearances and granted interviews to virtually every media outlet in the country, in stark contrast to his immediate predecessors who were hardly available outside pre-arranged conferences.
"Bafana Bafana is a national asset and we have to embrace the people around us," Igesund told BBC Sport.
"We can't divorce ourselves from the public or the clubs because at the end of the day the people are the ones who are going to make this team work.
"Being the hosts of the next Africa Cup of Nations, the South African people need to know we're going to make them proud and bring back the glory days to Bafana. They must feel proud about supporting us."
One of the areas that Igesund is keen to improve is the relationship between Bafana Bafana and the country's top clubs, who have frequently been reluctant to release players for international friendlies.
Igesund, whose career as a club coach spans 27 years, believes communication is key.
He said: "I remember when I was a club coach I never felt anything for Bafana because the national team never called me once to ask how things were going, to enquire about players and then suddenly they would call to ask for players to be released early to join the national squad.
"I want club coaches to feel part of the set-up because they really are part of it."
While that approach is likely to be warmly received, there is another side of Igesund that has not been so appreciated in all quarters.
Although he has won an unprecedented four league titles with four different clubs in the 16 seasons of Premiership football in South Africa, Igesund has had his detractors for playing direct football.
Shortly after winning the title with Orlando Pirates in 2000-01 he was physically attacked by two taxi loads of fanatical fans who were unhappy with the team's playing style.
It led him to leave the club and join unfancied Cape Town side Santos. He led them to the league title the following season.
Igesund's tactics were similarly criticised by Mamelodi Sundowns fans even after their team won the league in the 2006-07 season (the last of the club's five championships), and he opted to move once again.
However, he has won admirers for the way he turned Moroka Swallows from a side that survived relegation on the last day of the 2010-11 season into runner's-up the following season - they were also the league's highest scorers.
Igesund's record proves he is a motivator who can get the best out of his players to produce winning teams.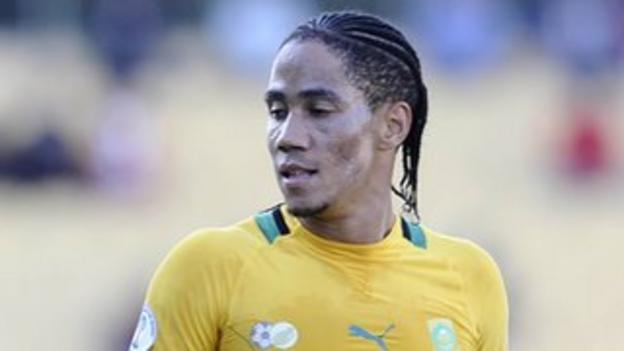 The Durban-born coach, who had a playing spell as a winger in Austria in the early 1980s, is also a disciplinarian and he has promised to ring changes to South Africa's playing personnel amid allegations that some regulars in the team were not pulling their weight.
He may also look at relieving Steven Pienaar of the burden of captaining the side which appears to have affected his performances.
"I have to sit Steven down and ask him if he wants the captaincy. Perhaps he's one of those lads who doesn't need the captain's armband to know he's the best player in the side," said Igesund.
"I've got Morgan Gould and Siya Sangweni who are leaders too. Morgan is just one of those pillars, it's natural for people to follow him."
The new coach is also looking at broadening the base of talent available to him by taking a closer look at uncapped European-based players who qualify to play for Bafana.
"We need to monitor our players who are overseas like Andrew Surman (who had a solid season with Norwich City in England's Premier League)," he explains.
"There are a few playing in Holland, in Greece, all over Europe. We can't afford not to monitor them.
"I'm aiming to have camps in Europe when there's an opportunity to do so, go to Austria or to Germany, for example, and have a mini-camp there so I can see what these players are all about, and see whether they fit into our plans."
Igesund is also seeking to move away from Bafana's conservative style introduced by former Brazilian mentor Carlos Alberto Parreira, which featured two defensive midfielders and a single striker.
And with a more offensive approach, he appears set to win over South Africans as he attempts to transfer his success at club level to an under-performing and success-starved national team.
A good omen for Igesund is that Bafana's victory at the Nations Cup in 1996, the last time South Africa hosted the tournament, was also achieved under a Durban-born coach, Clive Barker.