Rangers: Brian Kennedy confirms bid for Ibrox club
Last updated on .From the section Football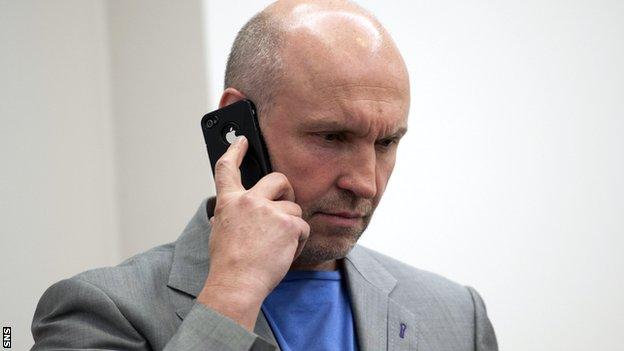 Brian Kennedy says his offer for the new Rangers remains on the table following a day of claim and counter claim with the present owners.
He had earlier confirmed reports of his bid, but Sevco chief executive Charles Green later denied knowledge of any offer from the Sale Sharks owner.
Kennedy says he has now submitted proof of his bid, made on 27 June.
"This offer will remain on the table for an open-ended period of time," he said in a statement.
"I fully respect it is the legal prerogative of the controlling investors to accept or reject any offers for the shares.
"But I remain ready, willing and able to support the long-term interests of Rangers Football Club.
"This evening, my lawyers have submitted to the offices of Zeus Capital, a copy of the offer document, along with proof of funding, that was considered and rejected by the controlling investors in Sevco around 27 June 2012."
Kennedy had failed with a solo bid, and as part of the Blue Knights consortium, to take control before Sevco Scotland, which is backed by Zeus, bought the assets of Rangers for £5.5m with the club facing liquidation.
The Edinburgh-born businessman was reported to be aiming to take a £5.6m controlling interest in Green's consortium.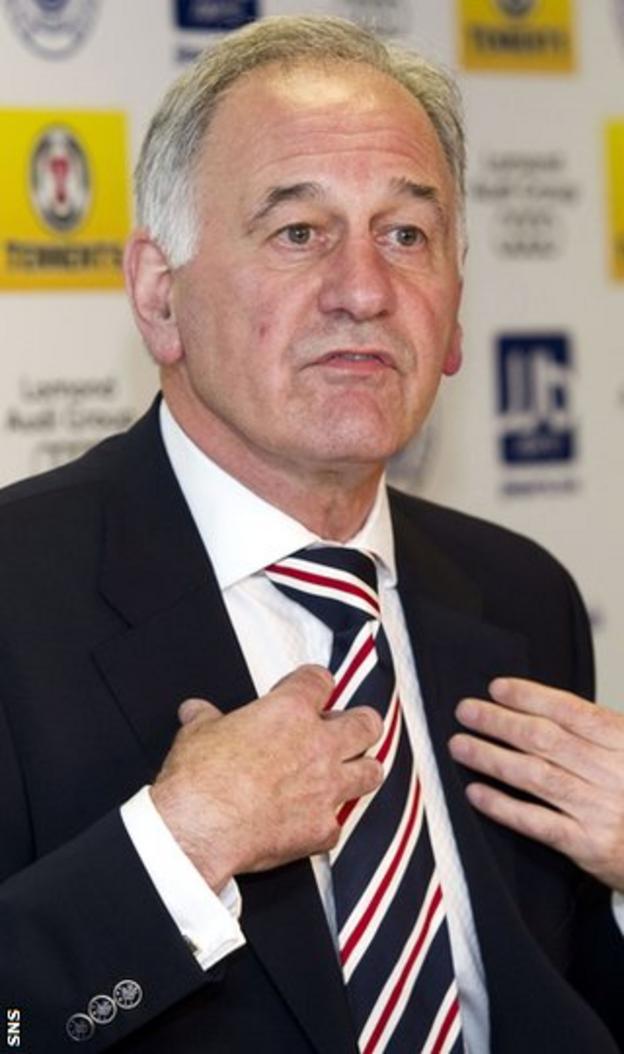 Kennedy thereafter claimed to have had discussions with a Sevco representative about his offer for a 51% shareholding in the Ibrox club.
"I have recently had several confidential meetings with a gentleman representing the shareholders of Sevco with regards to my interest in purchasing a majority shareholding in Rangers Football Club," he said.
"The details of these meetings and the written offer I have submitted have been disclosed from within the club.
"Now that this has leaked, I have no alternative but to confirm that what is reported in the Daily Record regarding such matters is accurate."
Green had responded to the initial statement by stressing that his consortium is not interested in selling, despite the new club being denied a place in the Scottish Premier League.
"For the avoidance of doubt, the owners and board of the club are not interested in selling a majority stake in Rangers to anyone," he said.
"I have said many times we are happy to talk to potential investors who wish to join the consortium on the basis that no single investor will have a majority shareholding and they support our commitment to a share issue for fans.
"We have checked with all the official representatives of shareholders and none of them have had meetings with Brian Kennedy, so we have no idea who the gentleman is he is referring to.
"He has not contacted any board members on this matter and we have never received any written offer from him."
The SPL is pressing for more sanctions to be handed out to the new Rangers before they are allowed to play in Division Three this season.
Rangers are being investigated for alleged undisclosed payments to players between 2001 and 2010.
The club are seeking membership of the Scottish Football Association in order to play in the forthcoming season.