Dave Kennedy excited by return to Jersey set up
Last updated on .From the section Football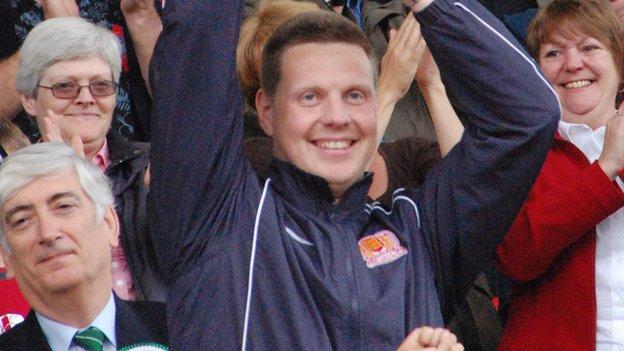 Former Jersey boss Dave Kennedy has spoken of his excitement and delight at returning to the island set up.
The islanders plan to increase their number of competitive matches this season with monthly fixtures against clubs from the UK.
"I'm delighted to be back involved," Kennedy told BBC Radio Jersey.
"I love the big games, the build up, the training and working with the best players in the island.
"When Craig asked me to get back involved again I didn't have to think too hard about it."
Kennedy - a former professional with Scottish sides Alloa Athletic, Dunfermline Athletic and Livingston - quit as Jersey boss in 2009 because of work and family commitments.
But now the attraction of more regular match action is something which has encouraged him to get back on board.
Alongside the monthly games at Springfield, Jersey's top players face a busy year ahead. As well as the domestic league and cup matches they will also travel to Malta, San Marino for the Uefa Regions Cup, and play in the annual Muratti.
"When I look back to my time again one of the biggest frustrations I had was the lack of a games programme," Kennedy said.
"We've got an opportunity now to get the players together regularly and build on the great work that's already been done.
"I love getting on the training park and knowing that work can be transferred onto a Saturday afternoon and I'm excited about building that picture."