Egyptian FA proposes September return for league
Last updated on .From the section Football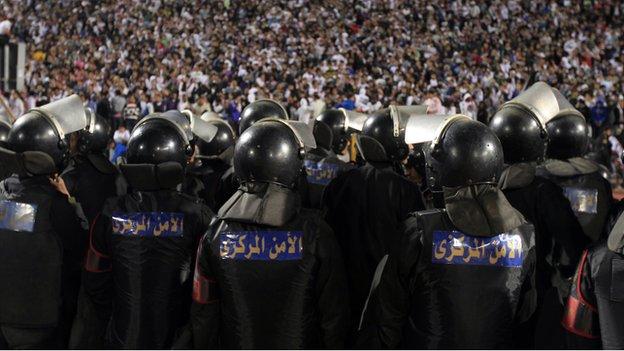 The Egyptian Football Association has revealed its plans for the Premier League to resume on 7 September.
All matches would be played in military stadiums and behind closed doors until the government's safety and security requirements have been fulfilled.
Amer Hussein told BBC Sport that the approval of the police and the Ministry of Interior was still needed.
But he added: "We have found solutions so we can both share responsibility and resume the football activity for the sake of the sport in the country. We hope they will approve them or we won't be able to resume the competition."
The news comes after a meeting between the interim executive committee of the EFA, chaired by Anwar Saleh, and club officials on Monday.
Also in that meeting a date of 26 August was proposed for the Super Cup, which would feature the 2011 league champions Al Ahly and the 2011 Egyptian Cup holders Enppi.
After the tragedy in Port Said, the only matches played in Egypt have been qualifiers for the Africa Cup of Nations and World Cup, and some continental club games - all of which have been played behind behind closed doors.
The ministry is still concerned about the lack of security at games - it has already refused one proposal for the new domestic season to start on 24 August - and wants certain prerequisites to be met before allowing football to return.
These conditions inlude the introduction of electronic gates, airport-style scanners and security cameras both inside and outside very stadium staging league or top-level cup games.
At Monday's meeting, the EFA and the clubs agreed to work together and coordinate by creating a security committee to hire private security companies to work with the ministry of interior in securing the matches.
Hussein said: "We still need the police approval. We have met and agreed on these suggestions and we'll discuss it with security officials of the Ministry of Interior when we meet them soon."