Sierra Leone ban Ibrahim Kargbo and Kei Kamara
By Mohamed Fajah Barrie
BBC Sport, Freetown
Last updated on .From the section Football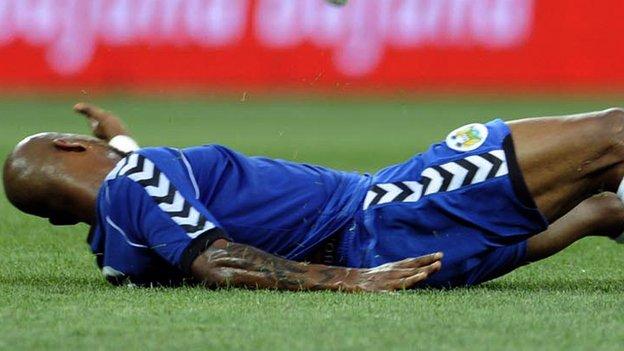 Sierra Leone captain Ibrahim Kargbo and USA-based striker Kei Kamara have been banned from international duty indefinitely.
The decision to suspend the two players was jointly taken by the Sierra Leone Football Association (SLFA) and the Ministry of Sports.
A statement from the SLFA said Kargbo and Kamara had frequently shown contempt to the Sport Minister Paul Kamara and football officials.
The pair were also accused of making inciting, derogatory statements and threatening remarks on air against football authorities.
However, the statement did not cite the incidents in which the players were alleged to have made such comments.
Kargbo told the Sierra Leone football website: "Kei Kamara and I have done nothing wrong. We didn't make any inciting statements or threatening remarks against anybody."
It is thought that there were some problems between the players, the Minister Kamara and the SLFA over players' air tickets refunds, match fees, bonuses and team's kit when Leone Stars played three matches in June against Cape Verde, Equatorial Guinea and Sao Tome & Principe.
The problem escalated to a point when the Leone Stars players refused to shake hands with Minister Kamara before the Sierra Leone-Cape Verde 2014 World Cup match in Freetown.
"We were abandoned by the Sports Minister and SLFA officials when we were in camp for Leone Stars' matches last month," added Kargbo, who was appointed Leone Stars captain two years ago.
"All I did as captain was to pass on messages we agreed on to the ministry and SLFA officials.
"Our colleagues are not happy about the decision taken against us and they've vowed to boycott Leone Stars' future matches until the SLFA and Sport Ministry reverse their decisions."
Kei Kamara has previously been banned from playing for Leone Stars by the SLFA.