London 2012: Team GB's Jill Scott on kicking the Olympics off in style

By Jill Scott
Everton and Team GB midfielder
Last updated on .From the section Football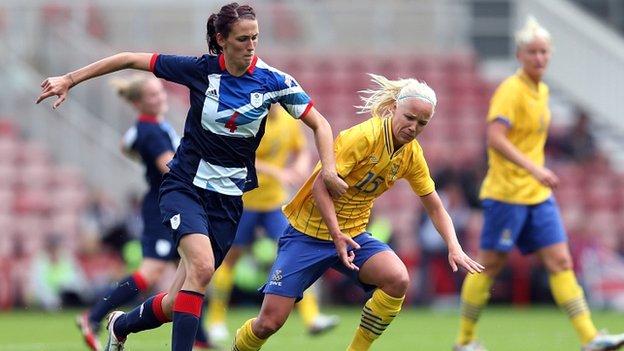 Some people might think that kicking off a home Olympics is too much pressure but I can assure you there is enough experience in the women's GB football team not to be distracted by the occasion.
Because our second game is also in Cardiff on Saturday, we will be watching the official beginning to the Olympics from there, and we would love to do that in our secret ceremony uniforms - given to all GB athletes - having made a winning start.
Being the first on the scene has been a running theme for the GB football squad so far in the build-up to the Olympics. Both the men's and women's teams arrived at the Olympic Village last Monday and it was like another world.
We have already bumped into the diver Tom Daley and we were one of the first to discover the free hairdressers, the giant food hall [McDonald's is off-limits] and the games room. So we wasted little time in challenging the men's team to a game of pool or table tennis, with the losers making the teas. Scott Sinclair has already had that privilege after being beaten by Rachel Yankey and Karen Carney!
There has been a real togetherness amongst the GB football teams even though the men's side is now in Manchester for their opener against Senegal, while we have decamped to Wales.
Having not met many of the men's team before we were a little apprehensive about meeting them, and we expected them to keep themselves to themselves, but they have been so down to earth that it is like we are one team, not two.
Men's captain Ryan Giggs has been especially impressive, taking time to speak to all the women's players and it has been inspirational listening to him. We also heard from Dame Kelly Holmes and Sir Clive Woodward when we arrived at the Olympic Park so we have had some amazing people to listen to.
It has certainly helped as history beckons but with England having played New Zealand at the World Cup last summer, and armed with plenty of videos, we are very well prepared.
Admittedly, we were slightly nervous to begin with during our first outing as Team GB during the goalless draw with Sweden last Friday. It perhaps made us a little tentative in our play, but even though it is a largely English squad, the Scottish players Kim Little and Ifeoma Dieke were among our best performers.
Our performance at the start was similar to when England played the Kiwis last summer in Germany 2011.
We went a goal behind but then I managed to score and we turned the game around by winning 2-1, so given that many of the England squad are involved in Team GB, that should give us confidence. We know we are in for a battle, though, because of New Zealand's almost endless energy.
It is a shame we are missing the opening ceremony but with both of our opening games in Cardiff, travelling to London would hamper our preparations and we have plans to stage our own celebrations on Friday too.
Our goalkeeper Karen Bardsley and right-back Alex Scott have also been cooking up a dance routine to rival an effort by the American team which you might have seen on YouTube.
But first and foremost, our focus is very much on winning at the Millennium Stadium on Wednesday to make it an opening event to remember for Team GB.
Quite simply, we want to get the Games off to the best possible start.
Don't forget that if you want to get in touch you can via my Facebook or Twitter pages.