Premier League issues social networking guidance for players
Last updated on .From the section Football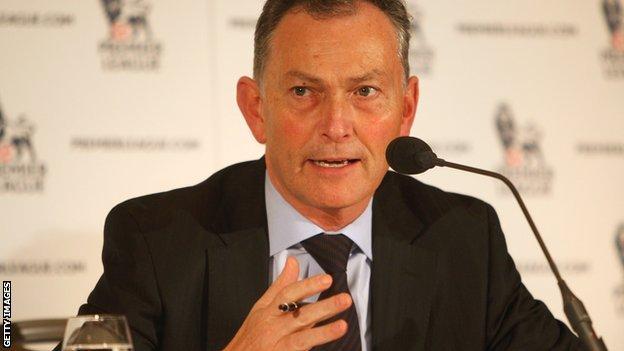 The Premier League has drawn up guidelines for players about how to use social media.
They offer advice on the endorsement of brands, goods and services and also warn players not to reveal confidential information about team matters.
"Social media is doing a good job of allowing fans to feel closer to the players," Premier League chief executive Richard Scudamore said.
"Clearly it isn't the same as texting your best mate or talking to someone."
A number of England's top-flight clubs have their own rules but some teams wanted more guidance for their players.
The Premier League guidelines also cover what disciplinary action the Football Association (FA) could take against players who make improper comments on social media.
Scudamore continued: "There is a more human side now to some of the players and the public can communicate more directly with them.
"Sometimes there can be abusive comments, but generally the internet, online chat rooms, and the way people are communicating, is healthy."
There have been a number of players charged over comments on social networking sites, the latest being Arsenal midfielder Emmanuel Frimpong, who has been charged by the FA with improper conduct on Twitter.
Manchester United defender Rio Ferdinand uses Twitter on a regular basis and he insists he will continue to post messages.
Ferdinand, speaking in Shanghai during United's pre-season tour, said: "Twitter is something that lets fans get a bit closer to you by letting them see you do everyday things - just giving them a glimpse of what you get up to.
"I treat it [Twitter] as fun. I don't take it too seriously, to be honest."