Pompey Supporters' Trust urges Portsmouth players' meeting
Last updated on .From the section Football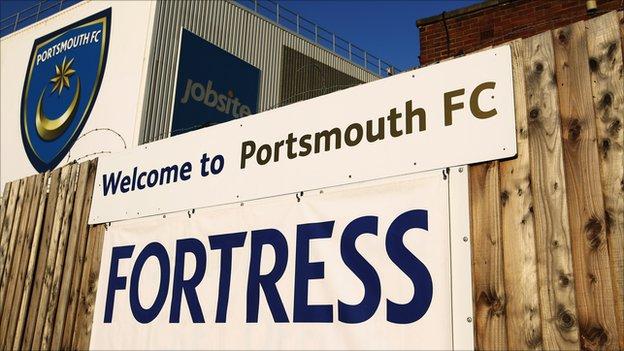 The Pompey Supporters' Trust - which is attempting to buy the stricken club - has urged Portsmouth's players to meet them, to thrash out a deal.
But the PST say they are still hopeful a deal can be done with the players.
"We urge the players to sit down with our representatives so we can explain our deal," said a PST statement.
Administrator Trevor Birch released a statement on Tuesday adding that of the seven players remaining only three or four had not agreed to a compromise.
And the PST have reiterated his warning that if the club is liquidated, the players will get nothing.
The players who, on a going concern sale are treated as 'football creditors' and must be paid, lose all such rights under liquidation and will be treated as ordinary unsecured creditors. It is unlikely that there will be any significant dividend in a liquidation.
If the club goes into liquidation it will also lose its league position, and its right to the £11m of parachute payments from the Premier League.
The PST has been working on its bid for four months and has raised what they call a "substantial seven-figure sum".
"We are ready and able to see this process through and buy the club. We have made a good offer and are making good progress in raising funds," said chairman Ashley Brown.
"The one remaining hurdle is the payment of football creditors, but if they don't shift we simply cannot do a deal outside liquidation."
David Norris, Greg Halford, Erik Huseklepp, Liam Lawrence, Dave Kitson, Tal Ben Haim and Kanu remain at the club.
Norris, Huseklepp and Lawrence are close to leaving Fratton Park while Halford is not one of the high earners left on Pompey's books.
However, Ben Haim who is on wages of £36,000 a week, along with Kanu and Kitson are the highest paid players at Fratton Park.
And it is those players who Birch says are crippling the club and damaging the chances of survival.
"Luke Varney has gone and I think there will be two or three more by the end of the week," Birch told BBC Radio Solent.
"So that leaves two or three. But the one or two that are left are likely to be the problem.
"They didn't cause the problem, but they can solve it."
Former owner Balram Chainrai - who along with the PST is attempting to take control of the club - has always said he will not let the club be liquidated.
Chainrai still has around £18m secured credit on the club but would lose nearly all of that if the League One club go out of business. However, Birch says his promise to save Pompey can now not be guaranteed.
"The offer was always conditional on the administrators reaching a compromise with the players," added Birch.
"Chainrai cannot take it on regardless of what the spend is going to be next season."
Birch also rejected suggestions Pompey should just 'start again' and relinquish their Football League status and has vowed to fight to save the club before 10 August.
"You cannot have those conversations until it actually happens," said Birch. "Nobody knows what league we'll start back in. It took Aldershot 17 years to restore their league status."