Grant Holt backed for productive season by Norwich team-mate
Last updated on .From the section Football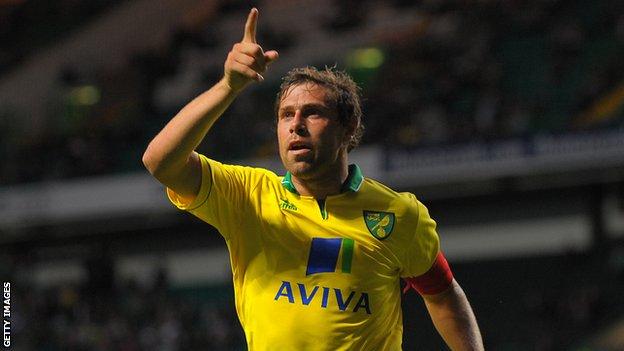 Norwich defender Russell Martin tipped team-mate Grant Holt for another productive season after he netted the winner in Tuesday's friendly at Celtic.
"The big man's back. All that went on in the summer is in the past now," Martin told BBC Radio Norfolk.
"He's here to stay and he did what he does best and that's score goals."
Holt only played the second half of the game at Parkhead but his 89th-minute strike gave the Canaries a welcome 1-0 victory.
"We changed the shape a little bit to accommodate the strikers we had, so he had to play a little bit of a different role, but he's a number nine that enjoys scoring goals and you could tell that by his reaction," said manager Chris Hughton.
However, an injury to new signing Steven Whittaker was a concern for the Norwich boss.
The former Rangers full-back endured a difficult evening as he was jeered by home supporters each time he touched the ball and had to be taken off in the 21st minute after going over on his ankle.
"It's one of those where we won't know (the extent) until the next few days.
"We'll assess it over the next couple of days and hopefully he'll be OK," said Hughton, who also confirmed the club's offer for Leeds midfielder Robert Snodgrass.
He described the match as a "good run-out" for his team at this stage of their pre-season build-up.
"We knew coming into the game that we were behind Celtic - they have a Champions League game next week, so they are probably about two weeks ahead of us," the Canaries boss said.
"We knew it would be a tough one and it was no surprise they had a fair amount of possession.
"But I was delighted with what I saw over the 90 minutes. We changed all 11 at half-time and were always able to be a threat. They were, of course, but as a team, we defended very well."