Andy Carroll: Liverpool must accept loss - Alan Pardew
Last updated on .From the section Football336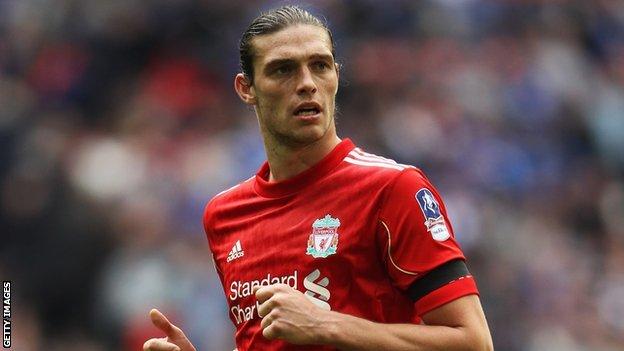 Newcastle manager Alan Pardew says Liverpool must accept a significant loss if they are to sell Andy Carroll.
Liverpool turned down an initial bid by Newcastle to take the 23-year-old, who they sold to the Reds for £35m in January 2011, back to Tyneside on loan.
But Pardew told BBC Radio Newcastle: "[Reading chairman] John Madejski used to say to me about certain players, just wipe your nose and move on.
"And I think [Liverpool] are going to have to do that with Andy."
New Liverpool boss Brendan Rodgers has revealed he is willing to accept offers of around £20m for the England striker.
And Pardew, who became Newcastle manager the month before Carroll's departure, believes that the England striker was destined to leave Merseyside once Rodgers took over at Anfield.
"I think it was obvious that as soon as Brendan went into Liverpool that Andy's time was going to have to be somewhere else," said Pardew.
"I think it's quite right we're involved in that. Whether he comes here, is something that I will take or I will leave.
"It's a lot of money for Mike [Ashley, Newcastle owner], although we'll obviously be getting a big upside in terms of what we sold him for and we've got three great strikers here already.
"But of course as the manager I want the best players I can get."
Liverpool have already signed Italian forward Fabio Borini this summer, and Pardew believes that any money generated from a potential deal for Carroll can still be used wisely by the new Reds manager.
"Whether it's £15m, £16m or £20m, if [Rodgers] uses that money and gets an uplift in the player that he brings in that's OK," he added.
"And that's how you've got to look at it."
Carroll, who is currently in America with the rest of the Liverpool first-team on a pre-season tour, has scored just 11 times in 54 appearances for the Reds since joining 18 months ago.
However, Rodgers has praised the striker, and dismissed suggestions he would be unable to fit into the style of play the Northern Irishman plans to bring to Liverpool.
"Andy is a terrific young player. I had a brief chat with all the lads and over the next couple of weeks I'll be able to speak to them with more confidence and on a one to one basis," Rodgers told the club website.
"There is no doubt he is a terrific talent. There has been a lot of unfair criticism aimed towards Andy.
"He is a player who can play in a number of styles and it was a wee bit unfair on him (for people) to say he couldn't fit into the way I would want to play."
Rodgers continued: "For me, your game is based on your players, the players you have. I am here to win games.
"We've got a number of very, very talented players in the group, of which Andy is one."