Robin van Persie 'should pick Man Utd over Man City'
By Alistair Magowan
BBC Sport
Last updated on .From the section Football370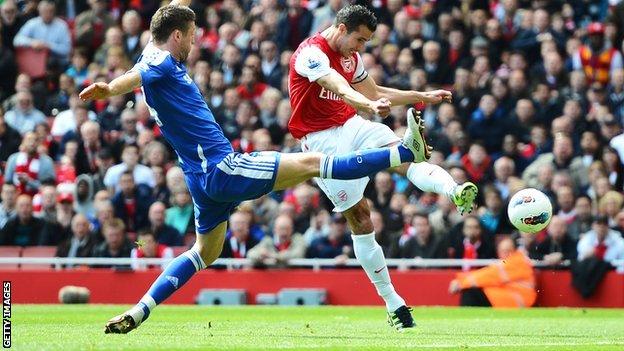 Robin van Persie should pick Manchester United over Manchester City, according to former Blues defender Danny Mills and ex-Red Devils star Gary Pallister.
Both Manchester clubs and Juventus have placed bids to buy the Arsenal striker.
"Strikers get frustrated at City and I don't think Van Persie would be rotated as much at United," Pallister said.
Mills says United are better placed to challenge in Europe, but former City striker Rodney Marsh believes his old club is the place to win silverware.
Marsh told BBC Sport: "You have to look at the context of the contract that he will sign. It will be for four years and probably will be his last big deal and Sir Alex Ferguson is not going to be around that long.
"I think Manchester City are on the way to the absolute top of football while Manchester United are on the way down. City will be the team that will win the trophies in the next few years.
"My own personal view is that Van Persie would go straight into the starting line-up because his goal production last season was sensational.
"Sergio Aguero is the star of the future in the Premier League, and I think he and Van Persie would be dynamite together."
Dutch striker Van Persie, 28, has a year left on his contract at Arsenal but said he does not plan to sign an extension.
He is now faced with a choice between Italian champions Juventus, Premier League champions City or a United side which lost the title by goal difference on the last day of the season.
It is understood Arsenal are reluctant to enter formal negotiations until a bid exceeds £20m and they are hopeful of holding out for £25-30m.
Despite City's growing credentials, Mills still regards United as a bigger force in Europe having reached the Champions League final twice in the last four seasons.
"Manchester United are still, in terms of club, bigger on a worldwide basis," Mills told BBC Sport. "Manchester City are still up and coming.
"In terms of challenging for the Champions League, if that's what Van Persie really wants, I think Manchester United would be the better option for him."
Both City and United went out at the group stages of the Champions League last season.
But Mills agrees with Pallister that the size of the Roberto Mancini's squad could count against Van Persie.
And Pallister feels that if Van Persie did choose the red half of Manchester, it would provide the team with the necessary boost after missing out on the title last season.
"Van Persie has proven he is top quality and I don't think he would have any problem establishing a lethal partnership with Wayne Rooney," said Pallister. "So if it's for footballing reasons, then I think Manchester United would be the ideal place for him.
"Whether it would make the difference [to them winning the title this season], I'm not sure. The goal difference was basically down to one game - the match at Old Trafford against City which cost them dearly, but it should never have gone that far.
"City were definitely better with the strength of their squad last year and it had such depth in it as well, that it gave them an advantage. That is something Ferguson has been and will be addressing."