Joe Allen's move from Swansea to Liverpool inevitable says Walsh
Last updated on .From the section Football10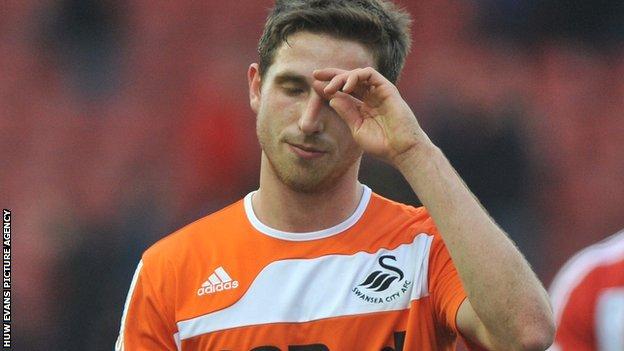 Former Wales striker Ian Walsh says he expects Joe Allen to leave Swansea City and join Liverpool.
But Allen, 22, has a release clause of £15m in his contract and Walsh believes if Liverpool meet that valuation the Wales midfielder will go to Anfield.
"It seems at this stage it could be inevitable that Joe Allen will leave Swansea for Liverpool," Walsh said.
"It's a great opportunity for him but it's not the news that the Swans fans would have liked.
"To think that he's a home-grown talent, talking in the realms of £10-15m for a player that's played one season in the Premier League. it's a vast amount of money
"I'm not sure that Swansea, in the long term, could afford to turn that sort of money down."
Wales assistant coach Osian Roberts says it will be a blow if Swansea lose Allen to Liverpool, but believes the playmaker has the talent to flourish at one of the bigger Premier League clubs.
"Joe is a terrific player, so intelligent... and I'm not surprised that one of the top clubs would be interested in him," Roberts said.
"Whether it'll work, whether the move will take place or not I'm not so sure, but he's a player that can play at the big clubs because he's such a talent.
"It won't be good for Swansea because they're losing a terrific young player that they've developed."
New Liverpool manager Brendan Rodgers has a written agreement with Swansea not to return to his former club to try to sign any of their players for the next 12 months.
But the Welsh club can waive that clause if a deal is deemed to be in the best interests of the club.
Whether Allen stays or goes, Roberts says that the emergence of a player such as Allen, who will also represent Team GB in the London 2012 Olympics, is proof that footballing talent is being nurtured in Wales.
"That's great to see that he's come through the grassroots football in the area, all the way through the centre of excellence at Swansea and they've developed a player of such talent," Roberts added.
"There's great encouragement in seeing the work that's been done in developing young players in the area."
Another boost for football in Wales was unveiled on Wednesday at the Cardiff School of Sport at Cardiff Metropolitan University.
The Welsh Football Medicine Institute based at the Cardiff campus has been accredited as the first Fifa medical centre of excellence in the UK.
"It's the first in the UK, which gives us great status and shows the good work that has been done through the Football Association of Wales, the Welsh Football Trust and Cardiff Met School of Sport," Roberts said.
"Predominantly it's about looking at maybe not so much the elite players that we've got, that are catered very well for in terms of the medical and the physical sciences, so perhaps this is more towards women's football in particular, the Welsh Premier League... and also the grass roots of the game."