Brentford stun Liverpool in Milk Cup Junior semi-final
Last updated on .From the section Football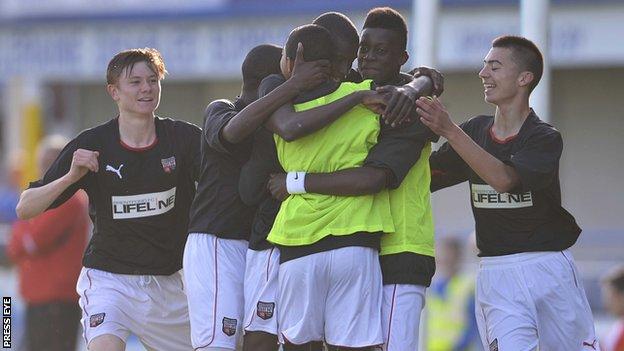 Brentford prevented an all-Merseyside Junior decider at the Milk Cup as they defeated Liverpool 5-4 on penalties after the semi-final had ended 1-1 on Wednesday evening.
Everton beat Watford 4-0 in Wednesday's other Junior semi-final.
Desportivo Brasil and Newcastle United progressed to Thursday's Premier final at the Ballymena Showgrounds.
The South Americans defeated Dublin club Cherry Orchard 3-0 while Newcastle edged out Bolton Wanderers 2-0.
Derlan Bento and Matheas Lopes scored first-half goals for the Brazilians with Bruno Conceciao adding the third in the second half.
BBC TWO Northern Ireland will have live coverage of the finals night at the Ballymena Showgrounds on Thursday from 19:00 BST.
There will be highlights of the Junior final between Everton and Brentford with live second-half coverage of the Elite Final between Mexico and Denmark and full coverage of the Premier clash between Desportivo Brasil and Newcastle.
Premier Semi-Finals
Cherry Orchard 0-3 Desportivo Brasil
Newcastle United 2-0 Bolton Wanderers
Other Premier results
Co Armagh 2-1 Otago United
Benfica 1-0 Co Fermanagh
Revo Express 2-3 Pachuca
Ichifuna 0-3 Co Antrim
Tottenham 1-2 CSKA Moscow
Co Down 3-1 Co Londonderry
Etoile Lusitana 2-0 Co Tyrone
Strikers FC 1-1 Manchester United [Strikers won 4-3 on pens]
Junior semi-finals
Everton 4-0 Watford
Liverpool 1-1 Brentford [Brentford won 5-4 on pens]
Other Junior results
Dundalk SL 3-1 Cruz Azul
CSKA 1-1 Co Down [Co Down won 4-2 on pens]
Swindon Town 1-1 Co Tyrone [Swindon won 4-3 on pens]
Co Fermanagh 1-0 Union Temuco
Co Armagh 0-1 North Dublin SL
Strikers FC 4-0 Ipswich Town
Co Antrim 1-3 Co Londonderry
Queen of the South 3-1 Hapoel Haifa