Alberto Aquilani wants to prove himself at Liverpool

Last updated on .From the section Football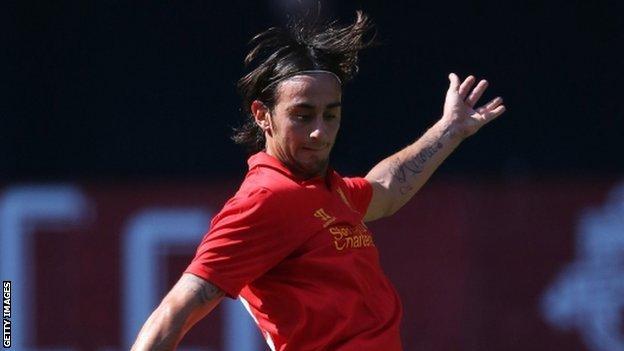 Liverpool midfielder Alberto Aquilani says he is puzzled by his past treatment at Anfield but is hopeful of proving himself to Brendan Rodgers.
Aquilani, 28, is back with the Reds after two seasons in Italy on loan.
"How can you pay £20m for a player and this player is never taken into consideration?" he told BBC Sport.
"I never asked to leave but I was always pushed by the club. I am here and I would like to play for Liverpool but it doesn't depend only on me."
Aquilani played the first half of Liverpool's friendly defeat by his former club Roma in Boston on Wednesday, and new manager Rodgers said afterwards that he is still considering whether he has a future at the club.
But the Italian international playmaker, who has two years left on his contract and is keen to stay with the Reds, says his initial meetings with Rodgers have been encouraging.
"I had a very good talk with Brendan where we were able to share our thoughts and it was a very positive chat," Aquilani explained. "I like his footballing philosophy and I like the mentality he has because it matches my own skills."
Aquilani was signed by Rafa Benitez but has not played a competitive game for the club since Benitez's departure in the summer of 2010.
Under Roy Hodgson and Kenny Dalglish, he was sent on season-long loans to Juventus and AC Milan, and says it has been frustrating not to be able to prove to Liverpool fans he can make an impact in England.
"The situation changed after Benitez left," Aquliani added. "In past years, I felt forced out. I never asked to go on loan but they made it clear it was better for me to go.
"It is frustrating to be judged in a certain way when the real story is not known and it is not what people think. As I said already I have never asked to leave but I was always pushed by the club.
"I think Liverpool people have to know that I have never said I wanted to leave the city because my family and I were not happy here. This is not true.
"I cannot say I have unfinished business in English football because I really never played but, the little I did, I believe I was able to show to Liverpool fans that I have quality and that I could have helped the team."