West Ham submit £17m for Liverpool striker Andy Carroll
Last updated on .From the section Football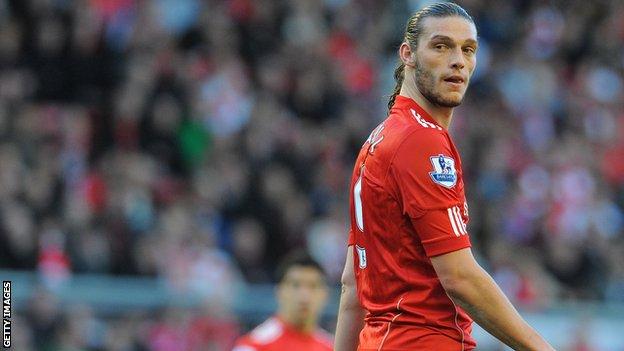 West Ham have stepped up their interest in Liverpool striker Andy Carroll by making a £17m bid that would break the club's transfer record.
The fresh offer would see England forward Carroll initially move on loan with a commitment to buy the 23-year-old next summer.
However, it is understood he does not view West Ham as a serious option.
The former Newcastle United player would prefer a return to the North East if forced to leave Anfield.
The Tyneside club, who retain a strong interest in the player, are monitoring the situation.
Owner Mike Ashley saw an initial bid for Carroll dismissed out of hand by Liverpool, who remain determined to secure the permanent sale of a player they bought for £35m in January 2011. The Anfield club insist they are not prepared to countenance offers below £20m for the 23-year-old.
West Ham are understood to be prepared to build their team around Carroll, but with the player indicating uncertainty about moving there, despite a strong friendship with former Newcastle team-mate Kevin Nolan, it does little to clarify his future.
The £7.5m West Ham paid Liverpool for Craig Bellamy in 2007 remains the club's transfer record, although Brescia striker Savio Nsereko agreed a deal that could potentially have been worth £9m, but he failed to trigger a number of performance-based clauses.
Jack Sullivan, son of David Sullivan, the West Ham co-owner, added to the speculation by tweeting: "Dad is working on the biggest signing in the history of the club - twice as big as anything the club have done before!"
Having indicated that Liverpool would be open to offers for Carroll, manager Brendan Rodgers insisted any criticism of the player had been unfair earlier this week.
"Andy is a terrific young player," Rodgers said. "I had a brief chat with all the lads and over the next couple of weeks I'll be able to speak to them with more confidence and on a one-to-one basis.
"There is no doubt he is a terrific talent. There has been a lot of unfair criticism aimed towards Andy. He is a player who can play in a number of styles and it was a wee bit unfair on him to say he couldn't fit into the way I would want to play.
"We've got a number of very, very talented players in the group, of which Andy is one."