Cameroon cling to Olympic hope despite loss to Brazil
By Osasu Obayiuwana
African Football Expert
Last updated on .From the section Football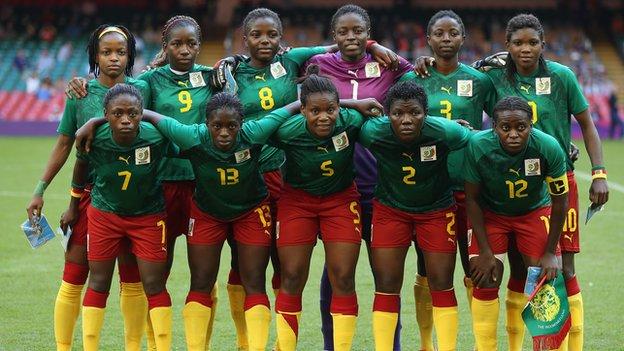 Cameroon coach Enow Ngachu has admitted that qualifying for the knockout stages of the women's Olympic tournament will be a tall order.
"We're here to learn. We had a very tough match against Brazil, one of the favourites," he said.
"For many of my players, it is the very first time that they are playing against non-African opposition."
A loss to Great Britain in their next group game, which also takes place in Cardiff on Saturday, will make it very difficult for Cameroon to advance at their first Olympic tournament.
The host team began their own campaign with a 1-0 win over New Zealand.
"Without doubt, the British team is a very experienced side, with quality players. However, this is football and anything is possible," Ngachu told BBC Sport.
"We will do everything possible to win that game."
But the poor quality of defending by the Indomitable Lionesses, which made Brazil's victory a rather effortless affair, is indicative of a lack of tactical discipline within the central African side.
Going 0-2 down, after just ten minutes of the game, exposed the clear lack of positional awareness in Cameroon's central defensive pairing, giving Brazil's Francielle and Renata Costa their early strikes.
"The two goals that we conceded in the first half were caused by basic defensive errors and they really demoralised my players. But we have two more days to work on our weak areas and rectify them," the coach admitted.
Brazil's Marta, the five-time Fifa Women's World Player of the Year, who got a brace in Wednesday's game, was surprisingly complimentary of Cameroon's debut performance.
"The Cameroonian team do not lack talent. I saw some," she told BBC Sport.
"They just need to work a bit harder and show more discipline whilst defending."