Portsmouth condition is 'critical' says administrator
Last updated on .From the section Football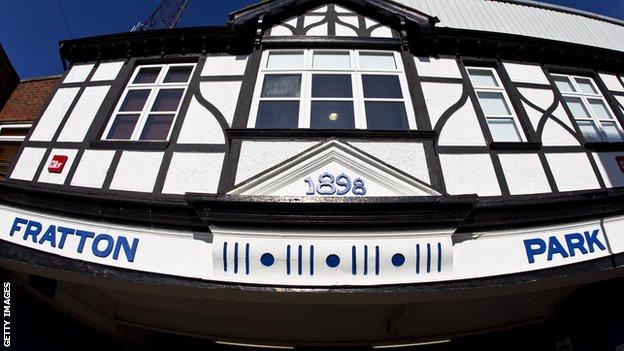 Portsmouth's administrators have reiterated their warning that the club is heading for liquidation, saying they are in a "critical" condition.
However, there appeared to be some hope that situation could be avoided with potential player departures and compromise agreements on the horizon.
Pompey have until 10 August to get rid of their six senior players or reach agreements with them over wages.
"The situation is now critical," said joint administrator Bryan Jackson.
"If the remaining high-cost players do not compromise on their wages or agree to move then we won't be able to complete the sale of the club and it will close down. It is as simple as that.
"Whilst we sympathise with the players and acknowledge that they are not to blame for the club's predicament, they do have the power to keep the club going.
"What is certain is that if the club does go into liquidation they are unlikely to receive anything at all. If, however, they agree to leave or conclude compromise settlements then the club has a future."
Greg Halford, Erik Huseklepp, Liam Lawrence, Dave Kitson, Tal Ben Haim and Kanu remain at the club after midfielder David Norris agreed to join Leeds United on Thursday.
Halford is wanted by Nottingham Forest while Huseklepp and Lawrence are also attracting interest leaving just Ben Haim, Kanu and Kitson.
Former Pompey manager Harry Redknapp revealed on Wednesday that he will attempt to help save the club from being shut down.
Redknapp, who won the FA Cup with Pompey, says he plans to speak to Kanu, who has lodged a claim for £3m in pay, to see if he can persuade the former Arsenal striker to accept a compromise.
"I will be ringing Kanu today to see if there is anything I can do," Redknapp told ESPN.
"Portsmouth has got to be saved. It's a great club with great traditions."
And in an interview on Thursday, former Pompey administrator Andrew Andronikou who is now representing Ben Haim, added a compromise was close to being completed with the defender.
"I am deeply concerned about the immediate future of the club," Andronikou told The News.
"But I am convinced that if both parties, the club and the players, can come to the table and stop conducting such personal negotiations through the media, a compromise will be reached."
He added that the club were within £250,000 of reaching an agreement with Ben Haim.