Roberto Mancini urges swift Manchester City signings
Last updated on .From the section Football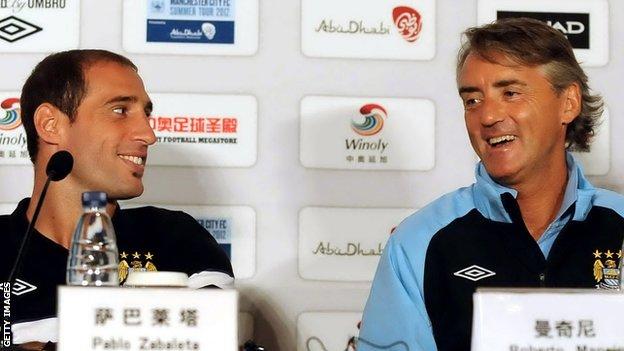 Manager Roberto Mancini believes Manchester City must strengthen their squad if they are to repeat last season's Premier League title success.
City's football director Brian Marwood oversees their transfer negotiations and Mancini hopes he "does a good job".
"It is important to get players quickly because, after what we did last year, we must continue to win," he said.
"This year will be harder than last so we need to improve our team. We have a man who works for this and we hope that they can do a good job.
"For this question, speak to the man in charge. I am not in charge of this."
Last year City secured Gael Clichy and Stefan Savic early in the summer and signed Sergio Aguero before the end of June, but they didn't complete Samir Nasri's move from Arsenal until after the start of the season.
Mancini face competition from Manchester United and Juventus for Van Persie and with City having a friendly against Arsenal in Beijing on Friday, he was reluctant to discuss City's pursuit of the Dutch striker.
"Van Persie is an Arsenal player, not our player," Mancini added.
"He is a fantastic player, but we have four strikers and with those strikers we won the title last year."