Fifa begins proceedings against Mohamed bin Hammam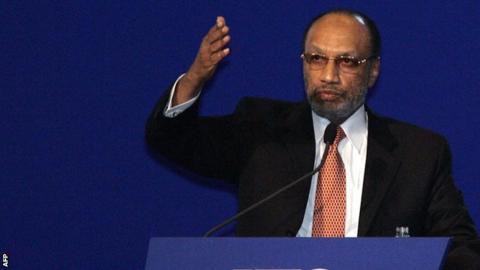 Fifa has opened investigation proceedings against Mohamed bin Hammam for alleged financial mismanagement.
The Qatari is being investigated over events dating back to his time as Asian Football Confederation (AFC) president.
The former Fifa presidential candidate had a bribery ban overturned in July due to insufficient evidence.
Bin Hammam was then suspended for 90 days by Fifa, extending an initial 30 day ban from the AFC.
"The chairman of the investigatory chamber of the Fifa Ethics Committee, Michael J. Garcia, today formally opened investigation proceedings against Mohamed bin Hammam," Fifa said in a statement.
"These proceedings follow the provisional banning of Bin Hammam for 90 days as established by the Ethics Committee on 26 July 2012 after a preliminary investigation of the case."
Bin Hammam's lifetime ban was overturned when the Court of Arbitration for Sport (Cas) could not support claims by Fifa's ethics committee in 2011 that Bin Hammam had paid bribes to Caribbean Football Union officials while campaigning against Sepp Blatter for the Fifa presidency.
"My wish now is just to quit and retire," Bin Hammam, 63, told BBC's World Football programme after his lifetime ban was annulled.
"I've served football for 42 years - this last year I have seen a very ugly face of the sport and of football.
"I should have the benefit of the doubt."