Rangers: Brechin eager for Ramsdens Cup tie to go ahead
Last updated on .From the section Football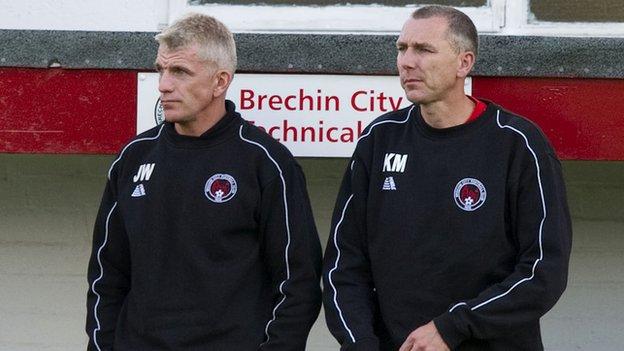 Brechin City manager Jim Weir and assistant Kevin McGowne are eager for Sunday's proposed Ramsdens Cup tie with Rangers to go ahead.
"It's absolutely astonishing we still don't have decision on it," said Weir.
And McGowne added: "If this game doesn't go ahead I just worry for the game in Scotland."
A five-way agreement between both old and new Rangers, the SFA, Scottish Premier League and Scottish Football League are required for the transfer of membership to be finalised.
But, issues pertaining to media rights and the SPL's investigation into how the old Rangers paid players in the previous decade have held up the process.
Weir's side were originally drawn against Dundee in the first round but, after Dundee replaced the old Rangers in the SPL, Rangers were slated as Brechin's opponents at Glebe Park and the match was moved from Saturday to Sunday for live coverage on BBC ALBA.
Weir said: "If this game didn't go ahead, where do we go from here?
"We were already preparing for what would've been a big game, a local derby against Dundee.
"If this game doesn't go ahead and we're denied the game [against Rangers] and obviously denied the Dundee game, it would be a massive blow to Brechin City.
"All the preparations are in place, they're working hard to make sure the game goes ahead.
"We've printed over 3,500 programmes, so it's a cost to the club. There's obviously the extra policing.
"The groundsman's working away hard, they're painting everywhere to make sure everything's up to speed and they want to make it a real welcome for the new Rangers coming and the live cameras makes it a bit special as well.
"Hopefully the day goes ahead."
McGowne feels it's important for the Scottish game that the Rangers membership issues is settled and Sunday's match goes ahead as planned.
"I think the [Scottish] game's in a bit of a mess to be perfectly honest," said the former St Mirren defender.
"We've had enough kicks in the backside this season, or the last six months.
"It's great for a wee town like Brechin to play a team like Glasgow Rangers. It would be fantastic for them."