John Ward rules out further Colchester United summer signings
Last updated on .From the section Football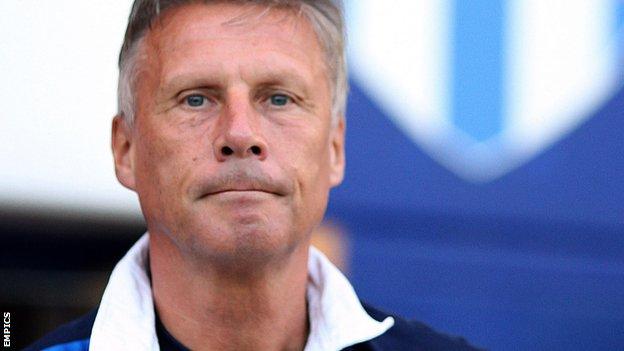 Colchester United manager John Ward says it is unlikely he will make any more signings before the start of the new League One season.
The club have recruited striker Clinton Morrison and Freddie Sears and midfielder Marcus Bean over the summer.
Ward told BBC Essex: "From last January we've been telling people the budget's going to be tighter this season.
"We're pretty much done, probably a bit quicker than I thought we may be done, but I'm happy with that."
Ward said the new faces were "bedding in quite nicely together" but acknowledged that his first-team squad would be slightly smaller this season in terms of experienced players.
"Fitness-wise we've got to look after them and who knows, there might be opportunities for one or two of the younger players to appear on the bench or even on the pitch and that's not a bad thing.
"We've got to look after the people and man-manage the coaching and training work that we're doing, but the attitude of everyone around me is first class," he said.
Colchester are due to face financially-stricken Portsmouth in their second league game of the season and Ward said events Fratton Park served as a warning to other clubs.
"I've got a sensible chairman who's got a business head as well and although he loses money on Colchester United, he wants to lose less and wants to encourage it more to be self-sufficient," said Ward.
"There's no way that [Portsmouth's situation] will happen here. We might not bring the marquee names in but there's a group of players and a coaching staff that have all bought in with the chairman on what we're trying to do.
"We've made it pretty plain to supporters and said 'this is where we are and if you want to retain a Football League club in Colchester for the next few years, hopefully you'll support what we're trying to do because it is the only way forward for our club'."