Torquay unlikely to replace Eunan O'Kane - Martin Ling
By Brent Pilnick
BBC Sport
Last updated on .From the section Football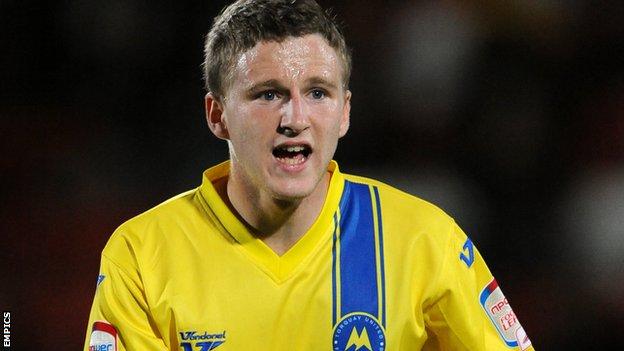 Torquay manager Martin Ling says he will not use the money from the sale of Eunan O'Kane to Bournemouth to bring in a direct replacement.
"Don't presume that the Eunan money will be spent on a mirror image of Eunan O'Kane," Ling told BBC Sport.
"The Eunan money will be spent, if needed, on areas that develop as the pre-season and the season develops."
Ling feels that the club has sufficient cover for O'Kane with the summer signings of Craig Easton,Billy Bodin and
"It's a situation I expected, it's a situation that I planned for," he said.
"If you look at the squad at the moment - it's a balanced squad, there's 22 players there.
"There's Billy Bodin who can play the Eunan role with his eyes shut, there's Danny Stevens who can play the Eunan role as well."
And Ling says he may have to strengthen his central defence rather than his attacking options.
The Gulls earlier this week after selling Mark Ellis to Crewe last month.
"That may be an area where we're one short, we've got Brian Saah, Downes, young Kirtys MacKenzie and Tom Cruise, who's a left-back who can play centre-half," Ling said.
"Are we as strong there as we were last year? No, because we had Ellis, Chris Robertson and Saah.
"There's money there. We're not going to be a club that spends six figures on any single player, but we're a club that pays decent wages and we've got a bit more in the bank if a problem occurs.
"There will be players available if we need to go out there, and with the Eunan situation there's also money available for wages should we need it."