Wolves manager Stale Solbakken expecting squad changes
Last updated on .From the section Football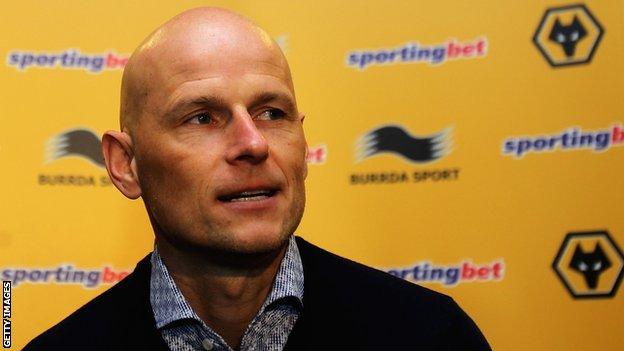 Wolves manager Stale Solbakken is expecting squad changes before the season kicks off next month.
Solbakken has acknowledged it will be hard for the Championship side to hang on to players subject to Premier League interest, such as Kevin Doyle.
"In football when you drop down a division I think there will always be players who will be attractive to the bigger division," said the Norwegian.
"It's impossible to say how many at the moment but it is always like this."
The Norwegian said the club would simply have to deal with the situation, but pointed out that movement would be both ways.
"I think there will be comings and goings," he said.
"I think you always want some fresh faces after a season like last season and there are also players who may find a challenge more suitable to their situation elsewhere.
"Every player is going to be important for us. So far everyone is here but I am sure it will continue to be discussed both inside and outside the club in the coming weeks.
"I think there has been interest but it's not for me to comment on any bids. I'll leave all that to the financial guys at the club to take care of."
Doyle is among those being linked with a move, with Swansea and newly promoted Southampton and Reading all understood to be interested in signing the Republic of Ireland international.
However the striker has three years to run on his current deal and has indicated he is looking forward to working with Solbakken.
"He's got some fantastic experience in his career. He'll have new ideas which he'll be getting across to us and we'll all get used to each other," said Doyle.
Solbakken said he has been pleased with the level of motivation shown by the players in pre-season training.
"I think we have players who want a revenge for last season and who want to work hard," he said.
"I think it will be a very even division where every point will be vital. There are probably 10, 12, 14 managers in this league who would all have the dream of being at the top.
"There are a lot of good clubs and experienced managers in the Championship this season and some very good players, so we know it is going to be tough. Every point will be vital."