Ahly upset by Al Masry's return to Egyptian football
Last updated on .From the section Football
The Court of Arbitration for Sport's decision to reverse a one-year ban on Al Masry has taken Egyptian football 'back to square one', say Al Ahly.
"Everybody had accepted the (EFA) decision and things were going back to normal - but now I think things have gone back to square one," Al Ahly board member Khaled Mortagey told BBC Sport.
News of the decision made by the Court of Arbitration for Sport (CAS) was made public by the Switzerland-based organisation on Thursday.
However, no reasons were given to explain why the ban on al-Masry was overturned - a decision which the EFA has said it will accept.
Mortagey says Al Ahly are upset with the EFA for failing to inform the Cairo giants that the case had even gone to CAS, whose headquarters are in the Swiss city Lausanne.
"I'm very disappointed and very upset that the EFA has allowed this to go to CAS - but CAS is a very reputable organisation and we have to respect the decision," he said.
"Until now, we are still waiting for the grounds for the decision, because this will give us a clearer picture of how the EFA reacted to this case."
Mortagey says that the six-time African champions are not in a position to appeal the decision.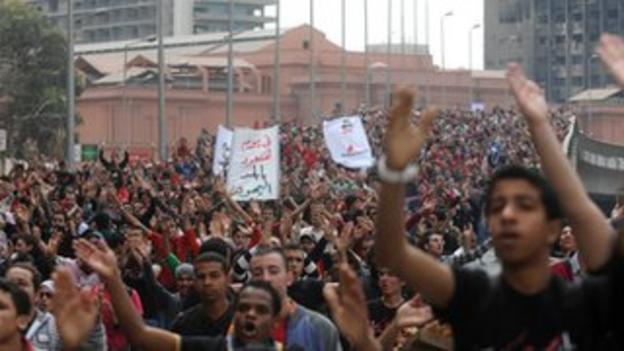 They have also decided not to boycott the league ahead of its potential resumption in September, with all domestic football having been suspended in Egypt following the tragedy in February.
However, the team named as the 'Club of the Century' by the Confederation of African Football in 2000 will continue to seek justice for those who died in Port Said.
"We are working for the rights of our martyrs who lost their lives in Port Said - and so that justice prevails against whoever organised this terrible event," said Mortagey.
To that effect, the Al Ahly board has sent an Egyptian lawyer to Switzerland to meet with the club's international legal team in order to find a way forward.
In the short term, Al Ahly are desperate to resume the domestic league with the lack of action crippling the club, and many others in Egypt, financially.
"We really want the competition to start in order to satisfy our sponsors and to get money from the gate receipts."
Under the original sanctions imposed by the EFA on Al Masry, the club were barred from football for the 2012-2013 season and ordered to play in the second division upon their return in 2013-2014.
Following the CAS ruling, the club is now able to return to the top division as soon as Egyptian football returns.
Masry fans will also be able to attend away matches now, having initially been barred from attending any game whenever the next season returns.
However, the decision to ban Al Masry from holding games in their Port Said stadium for the next four years has been upheld.