Rangers: Ally McCoist criticises SPL's 'hostile agenda'
Last updated on .From the section Football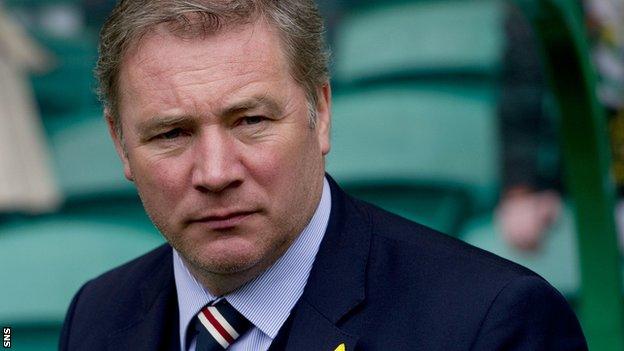 Rangers manager Ally McCoist has criticised the Scottish Premier League for pursuing "as hostile an agenda as possible" towards the club.
Protracted discussions over membership, which involved the SPL, had placed the Ramsdens Cup tie in doubt.
"Rangers have not been punished enough in [the SPL's] eyes," said McCoist.
McCoist last week insisted he would "never accept" Rangers being stripped of titles won during the period being probed by the SPL.
And, in a lengthy statement, the manager described the recent uncertainty over Rangers' status as "a ludicrous situation".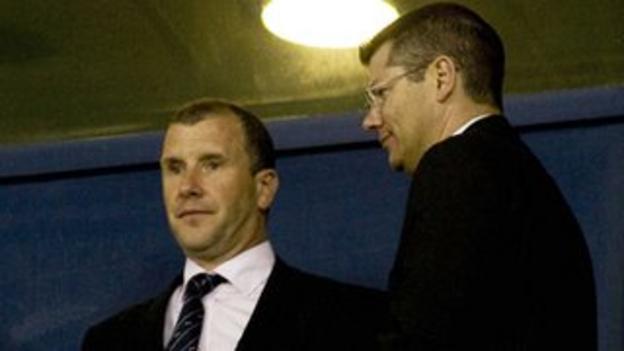 "No one is denying that Rangers were badly mismanaged for 10 months," said McCoist. "Nor are we disputing that we should be punished for that. We have been. We accept that punishment and want to start putting the past behind us and move forward.
"But that is not being allowed to happen - and I have to ask myself why?
"In recent days, I have been in a number of meetings with Stewart Regan, Rod Petrie and other senior SFA figures - and despair at the lack of leadership shown.
"In my years in professional football, I have not always agreed with everything the SFA did or said. But, no matter what you thought of their decisions, there was no doubt they ran the game firmly and robustly.
"I can only imagine [former chief executive] Ernie Walker looking down on us now and shaking his head in disbelief at the sad state of affairs and the way they have been mishandled.
"The SPL kicked us out - which was their right - and we acknowledge that. But that doesn't seem enough for [chief executive] Neil Doncaster and some of his board.
"Having said they don't want us they do want a bigger share of the TV money that our presence will bring to the SFL and its clubs. Never mind sporting integrity - where is the moral integrity there?
"And there is no line to be drawn in the sand. Rangers have not been punished enough in their eyes and along with one or two people who have a vested interest within SPL clubs, our right to past titles will be challenged.
"They want what we and our fans bring, yet seem determined to strip us of every bit of our dignity. It has to stop."
McCoist went on to thank the SFL for inviting Rangers into the lower league set-up.
"It is time to start playing football again," he added.
McCoist was appointed manager of the old Rangers last summer and, by February of this year, the club had entered administration with mounting debts.
The club could not be saved from liquidation and were reformed by a new company.
However, the Rangers 'newco' had their bid to replace the old club in the SPL rejected and were eventually accepted, in principle, into the Scottish Football League Third Division.
But the issue of inheriting the old Rangers' SFA membership - required for league and cup participation - remained unresolved until a conditional transfer was granted, with the permanent transfer due to take place on completion of legal documentation.
Rangers have agreed to incur a 12-month transfer ban that was handed out to the old club by the SFA as punishment for bringing the game into disrepute.
But issues relating to media rights and possible sanctions as a result of the SPL's investigation into how Rangers paid their employees in the previous decade had held up the process.