Rangers: Ian Black and Andy Little sign three-year deals
Last updated on .From the section Football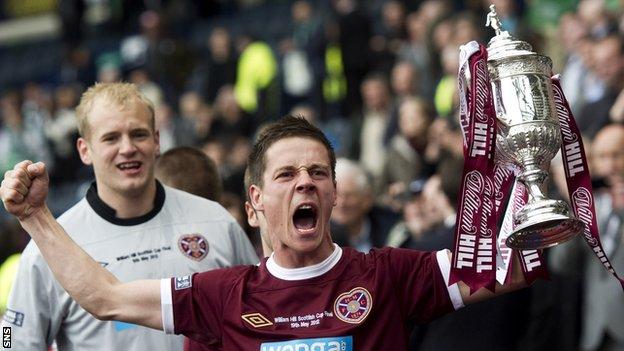 Former Hearts midfielder Ian Black has signed a three-year contract with Rangers, who have secured Andy Little on a similar deal.
Black was a free agent after his Tynecastle contract ended this summer.
Little was contracted to Rangers before the club was relaunched by a new company but he too was out of contract.
The registration of both players cannot be completed until Friday but they could play as trialists in the Ramsdens Cup match against Brechin on Sunday.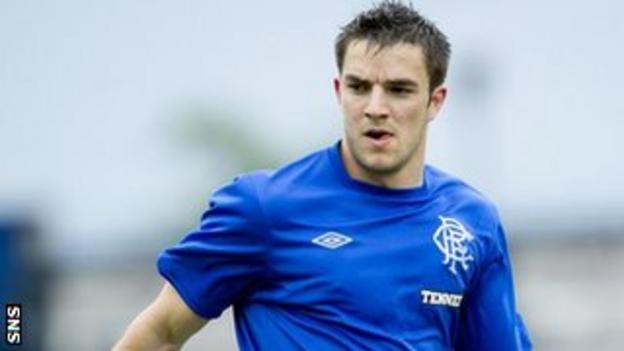 "I'm delighted to be here," said 27-year-old Scot Black. "The move has been a long time in coming. I was really excited to hear the manager was interested in me.
"Now I'm thrilled to get the opportunity to come and play here. I had a good few other clubs wanting me to sign for them but coming to a club like this is great.
"I had opportunities to stay in the SPL and people might criticise me for not doing that but I want to win things here now.
"I know Rangers are in the Third Division but you only get an opportunity to come somewhere like here once.
"It's something I wanted to give a shot. Playing in front of big crowds will be great and I'm looking forward to it."
Little, 23, scored five goals for Rangers last season and has played in both defensive and attacking positions at Ibrox.
"I'm really, really happy to be back here," said the Northern Ireland international.
"I've grown up at the club and I feel like it's very much a part of me so I found it very difficult when I was asked by other clubs to make a decision.
"I would have found it very difficult to leave. I had my car packed twice and I was ready to go and look at flats in different places, but I found that really hard, really difficult to consider leaving.
"I was never in a massive rush because I had some time where I could weigh up my options and I'm glad that I didn't rush it because I had a couple of times where other clubs were giving me dates to make a decision.
"I found it very difficult to think about going to those clubs without knowing the future of Rangers and that was a big thing for me."