Olympics 'too big' for SA women says coach Mkhonza
By Osasu Obayiuwana
BBC Africa Sport, Coventry
Last updated on .From the section Football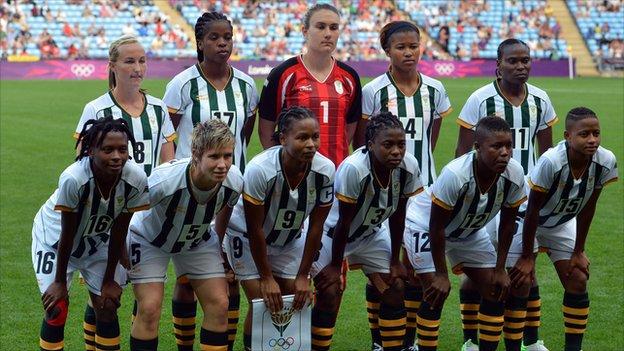 South Africa women's football coach Joseph Mkhonza admitted the Olympic stage is "too big" for his side after Saturday's 3-0 defeat to Canada.
"We weren't consistent and we made a lot of mistakes, for which we got punished," Mkhonza told BBC Sport.
"But when our opponents made similar mistakes, we were unable to take advantage of them."
Banyana Banyana now have a tough task to reach the last eight after their earlier 4-1 loss to Sweden.
The debutants must now beat world champions Japan in their final group game and hope other results go their way if they are to advance.
"I think the [Olympic] stage is too big but it is good experience for the girls. I think that when we come here next time, we'll do better," Mkhonza said.
"This tournament is so mind-blowing and I have learnt a lot as a coach. We must learn to play with the same intensity, from the start of a match, to the very end."
Mkhonza also complained about his team's lack of pre-tournament exposure to non-African teams, which he claimed affected the competitiveness of his side.
"One big problem in Africa is that women's football is not taken seriously enough," he said.
"We faced Zambia, Tunisia and Ethiopia in the qualifiers. This is not enough [preparation]."
"We have to start preparing early… most of our players are students and we were unable to take them away from school.
"We have to face the world's high-profile teams, consistently, in order to get ready for a tournament like this."
With their final game against Japan at Cardiff's Millennium Stadium on Tuesday, South Africa midfielder Kylie Louw said South Africa are determined, despite two heavy defeats, to leave the Olympics with their "heads held high".
"We have one more game to play and we are not going to sit down and relax," she said.
"Japan is a great team that just won the World Cup, so it is going to be difficult for us.
"But we will come to the match with a fighting spirit and ensure that we go back home with some pride."