Gareth Bale calls Charlie Adam a coward for bad tackle
Last updated on .From the section Football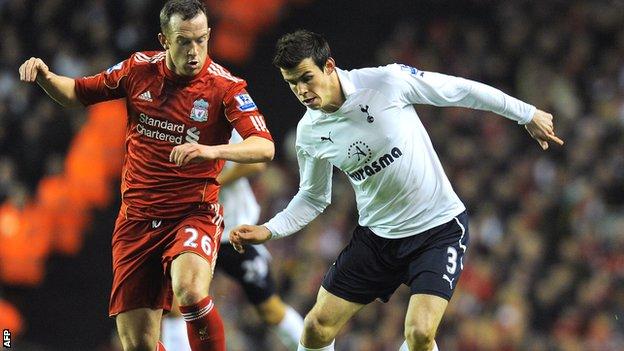 Tottenham winger Gareth Bale has called Charlie Adam a coward after being sidelined for a second time by the Liverpool and Scotland midfielder.
He was on left crutches again by Adam in a pre-season game on Saturday and said: "He's a bit of a coward.
"It's flattering if players try to take you out in a game but when it threatens your career it becomes more serious."
Adam joined Liverpool for an undisclosed fee of around £8m in July 2011.
Two months before that he brought Bale's 2010-11 season to a premature end with a lunge and the Scotsman was guilty of a similar challenge during the Liverpool-Spurs match in Baltimore, USA.
"What he did was over the top," Bale insisted. "Some people are like that and it's just wrong.
"There are pictures on the internet of what he did before when he snapped all my ankle ligaments. I was out for three months that time. He's come for me twice now - and he's got me twice.
"When someone makes a very bad tackle on you, you expect an apology. I've had no apology. And I'm not going to accept his apology."
Spurs full-back Kyle Walker joined the condemnation of Adam and added: "Gareth is a very good player. He needs protection.
"Players shouldn't hate him. They should appreciate playing against a player like him. They can actually learn from him rather kick him.
"It's simple. He [Adam] is jealous, as Gareth is such a good player."
Bale has just over two weeks to get fit before Wales face Bosnia-Hercegovina in a friendly at Llanelli on 15 August.
Tottenham's first match of the season is against Newcastle on 18 August.
Wales also have World Cup qualifiers against Belgium on 7 September at Cardiff City Stadium and Serbia away on 11 September.