Cisse dismisses criticism of Senegal's style of play
By Osasu Obayiuwana
BBC Africa Sport
Last updated on .From the section Football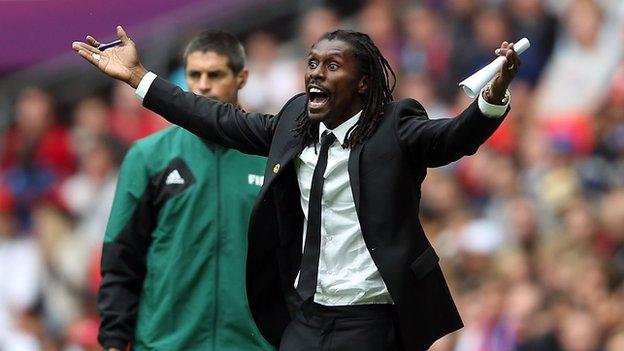 Senegal assistant coach Aliou Cisse has hit back at criticism of his team's style of play at the Olympics.
"I would not agree that we are an excessively physical team. We certainly have other technical qualities that we have shown, particularly in our collective play," Cisse told BBC Sport, following their 2-0 win over Uruguay in Sunday's group A match at Wembley.
Manchester United veteran Ryan Giggs, who played for Team GB in their 1-1 draw against the Lions of Teranga, had argued that midfielder Sadio Manu should have been sent off for a series of challenges he made in the opening game at Old Trafford.
"I hope they will recognise our technical qualities a bit more," Cisse said in response.
"Considering the fact that my team has not played together for so long, their standard of play is a very good omen for their future."
Cisse, who was a key member of the Senegal team that reached the World Cup quarter-finals in 2002, added: "We had a very difficult match [against Uruguay] but also an interesting match.
"My players demonstrated that they had the physical resources to maintain play at a high level, right up to the end. It was a great match from which to gain experience."
Senegal's win was even more impressive given that they played for over an hour with 10 men following the sending off of defender Abdoulaye Ba in the 29th minute for tripping striker Luis Suarez.
"I don't think the decision to expel Ba was linked to how we played against the GB team in our opening game. But when you are on the bench, it is often difficult to see things," said Cisse.
"Getting a red card so early in the game was particularly worrying, as I wondered how we were going to cope for so long with just 10 men.
"We knew the difficulty we would face in the game as a consequence of his expulsion and we knew that we had to play a far more compact, more solid game. Our players realised that and acted accordingly. Everything we decided tactically worked."
Sunday's win at Wembley was the first victory recorded by an African team, male or female, at the 2012 Olympic football tournament.
Uruguay coach Oscar Tabarez admitted he was impressed by Senegal, particularly their defensive quartet who contained the attacking forays of Suarez, the controversial Liverpool forward.
"Senegal showed very good qualities. They have four players that function at a high level and their overall physical level is very good. They're quick and have endurance," Tabarez told BBC Sport.
"If they keep working hard and continue to improve on their level of tactical discipline, they have a decent chance in this tournament," said the coach, who led Uruguay to the 2010 World Cup semi-final, at Ghana's expense.
Senegal are second in Group A, behind Team GB on goals scored, and face the UAE in their final group A match at the City of Coventry stadium on Wednesday.
Cisse insists the game will not be an easy one for his side.
"We held Great Britain to a draw and beat a great team in Uruguay, but that does not mean that we are the group favourites."
"We need to perform in every match, at 100% capacity. I think our last match will be our most difficult one. The UAE are a good physical team and could have beaten Uruguay in their game. We cannot underestimate them."