Kanu's Portsmouth exit buoys administrator Trevor Birch
Last updated on .From the section Football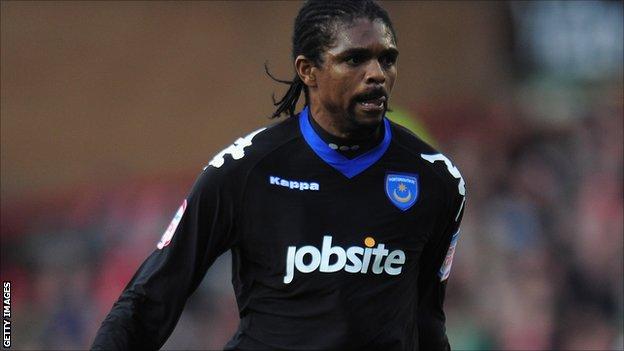 Portsmouth administrator Trevor Birch says he has been "encouraged" by the progress the club have made in their attempts to avoid liquidation following the exit of Kanu from Fratton Park.
With Kanu now gone, the side have just three senior players at the club.
"We've made encouraging progress," Birch told BBC Sport.
Administrators PKF also confirmed on Monday that the former Arsenal striker, who has reached the end of his 14-day notice period, is still involved in a dispute over unpaid wages.
Because of that dispute, PKF are now filing a submission to the Football League and are pushing for a hearing to resolve the issue as soon as possible.
Kanu, who has walked out on the final year of his contract, is reportedly claiming up to £3m in periods of unpaid wages since 2006 and Birch has asked for a tribunal to intervene.
In the past week Greg Halford, Erik Huseklepp, David Norris and Luke Varney all left the club, to leave just Dave Kitson, Liam Lawrence and Tal Ben Haim at Fratton Park.
Balram Chainrai's Portpin and the Pompey Supporters Trust are vying for ownership of the stricken club who will start next season in League One on minus 10 points.
In June creditors of the club accepted Chainrai's Company Voluntary Arrangment offer of two pence in the pound, while the PST can still do a deal with the Hong Kong businessman to buy Portsmouth.
"There's still more work to do if we're to meet the conditions of the CVA and finalise the sale of the club," added Birch.
"Credit to the players that have left. It's not their fault that they were offered unaffordable contracts, but they've done what's best for the team, even though it meant taking a substantial hit themselves."
There is thought to be interest in Lawrence, while Ben Haim's agent said last week they were close to reaching a compromise agreement with the club. That would leave just Kitson.
"There are three first team players still on the books," said Birch.
"Our priority is to continue to talk to them to negotiate the settlements that are needed to enable the club to survive. They know what's at stake and I trust that they will respond accordingly."