Notts County's Spain trip good for club - Keith Curle
Last updated on .From the section Football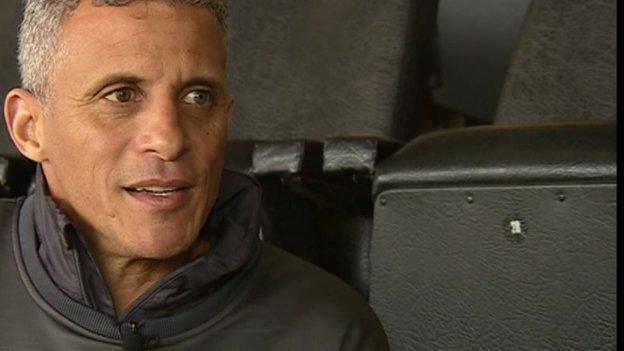 Notts County manager Keith Curle believes his side's pre-season trip to Spain will be more beneficial than preparing back home in Nottingham.
The Magpies will play a friendly against Gibraltar on Tuesday.
"I'm a big believer that if you are going to get fit, play football," Curle told BBC Radio Nottingham.
"It's a different climate, different environment and different training programme, where we're able to train four times a day."
Curle continued: "We have integrated the players into ball work very quickly but it's not all football based.
"Part of the mental and physical preparations can sometimes be a swim session in the morning, activation work with muscles and sore muscles mid-morning, a fitness training session and a football training session in the evening.
"What you do in the evening, because of the climate and the heat, you work more on tactical rather than physical development of the team."
And Curle was keen to point out that the trip was not a social occasion for his players.
"Some people say team spirit is built on alcohol but I don't think it is," he added. "It is based on the togetherness and also winning games.
"There is a togetherness at this football club that shone through. Against Wycombe away [last season], 90 minutes on the clock and we're 3-2 down but we win 4-3. You don't do that by going out getting drunk together.
"That's a unity that was bonded probably before I came here and has grown in the time I have been here, with the rest of the staff as well."