Olympics football: Jill Scott on Brazil, Beckham & dance routine

By Jill Scott
Everton and Team GB midfielder
Last updated on .From the section Football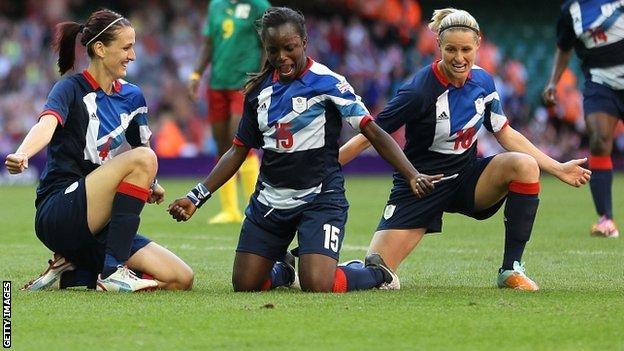 Facing Brazil in front of a huge crowd at Wembley on Tuesday is going to be another highlight in a whirlwind few days for the British women's football team - and it is a journey we don't want to end.
Not only did we beat Cameroon 3-0 on Saturday to qualify for the quarter-finals, but we met David Beckham at the men's game against United Arab Emirates after we came back to London.
It's hard to describe how exciting everything has been so far and meeting a hero of mine like Beckham and Prince William has been part of the unique experience that has made the Olympics so special.
I know it might sound a cliché but Beckham was lovely. He knew all about women's football and has been watching all our games so it's fair to say we went back to the athletes' village that night a happy bunch.
He also asked about my goal celebration after I scored the second against Cameroon at the Millennium Stadium and I even tried to get him to do it, but I think he was a bit embarrassed.
The "shaky shoulders" is part of a dance routine we have been working on to rival efforts by the American team, so you got a sneak preview of some of our moves.
Hopefully it showed you how much we are enjoying ourselves but don't let it mask our determination to do well in this tournament. Now we want to beat Brazil and top the group.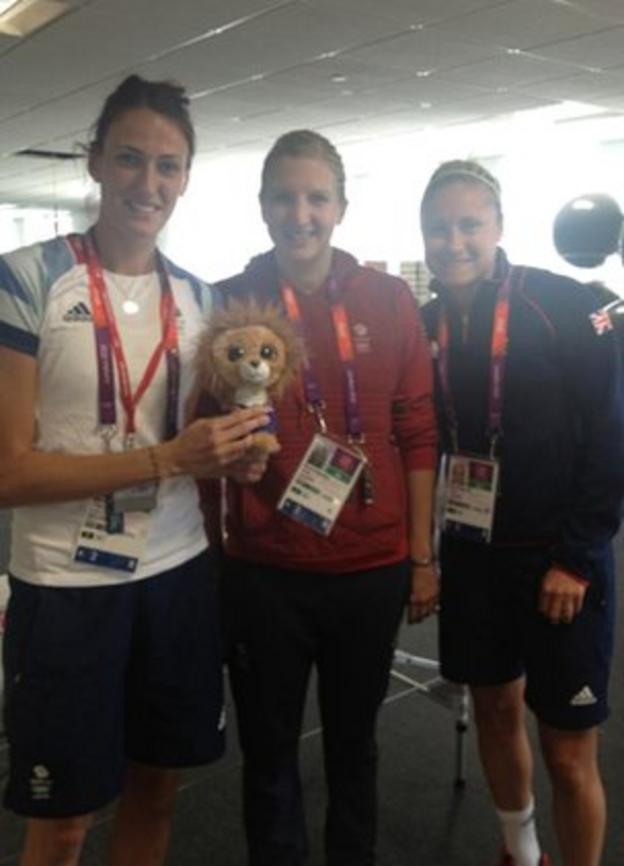 It would be fantastic to win a medal but you never know what might happen. We are on the right track so far and everything is going to plan.
We have played our first two games in Cardiff but now we switch to Wembley where none of us has played before and we are all excited about playing in front of 70,000 fans.
The win against Cameroon gave us loads of confidence, and the support has been amazing so far. With the fans so close to the pitch, it's been fantastic to hear them shouting for you all the time. It is something we've never experienced before because although we've played in front of big crowds for England at the World Cup in China and Germany, they weren't always all on our side.
It's fantastic to be back in the athletes' village now. Walking around, we've been getting so many positive comments and with all the GB athletes in one place we feel like we are part of one big team, especially when the likes of Rebecca Adlington and Lizzie Armitstead win medals.
Another big boost to us is our mascot Brian the Lion. He's been with us since the start and we take it in turns to look after him every day depending on whether you have done something good or made an idiot of yourself.
I managed to bump into Adlington when I looked after him on Monday, so we got a picture together and Brian is that big a character you can follow him on Twitter. My mum is a huge fan!
Hopefully Brian will be cheering the men's team as they reach the quarter-finals too. We all want to do well together.
Don't forget that if you want to get in touch you can via my Facebook or Twitter pages.