Motherwell must take chances against Panathinaikos - McCall
Last updated on .From the section Football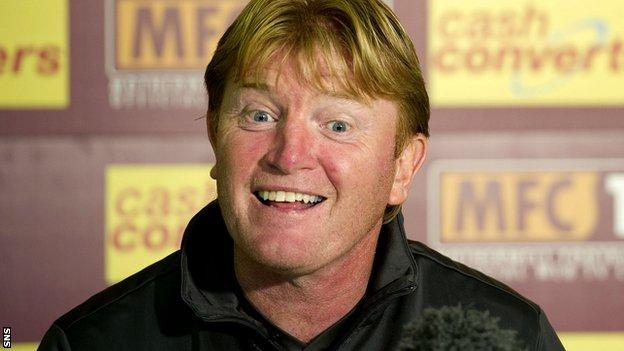 Manager Stuart McCall wants Motherwell to embrace the occasion when they tackle Panathinaikos in Champions League qualifying at Fir Park.
"These are the games you want to play in," said McCall. "As long as they go out and play with no fear.
"We always expect in this dressing room, especially at home.
"We are not silly enough to think we will be the dominant side but there will be opportunities for us and hopefully we can take them."
The Lanarkshire side are making their debut in Europe's top tournament after a third place finish in the Scottish Premier League was good enough to take Scotland's second spot.
And McCall is urging his players to be at their best as they prepare for their reward for last season's consistency.
"I don't want the players to have any inhibitions whatsoever," he added. "I want us to go out and make people proud of us.
"If we go out and play as well as we can and don't get a result, then so be it.
"You can never guarantee a result but we should be able to do is guarantee the desire and commitment, all the Scottish traits if you like.
"I have been involved in Scottish sides nationally when we haven't been given a chance but we have gone out and had a good go at it.
"We are conscious of not being naive and going gung-ho but we also want to cause them a threat.
"Since I've been here, we have been at our best when going forward. We have players who can cause teams problems and that's what we aim to do."
McCall knows there are few expectations on his team compared to the "desperation" of the Greek visitors to reach the group stages.
While Motherwell are awaiting confirmation of the SPL's television deals after warning of serious financial problems caused by the collapse of Rangers, former Ibrox defender Jean-Alain Boumsong has revealed he and his Panathinaikos team-mates are waiting for overdue wages.
"If you listen to what's coming out of their camp, the pressure is on them," explained McCall. "Everyone expects them to go through and rightly so.
"But I think there is an added pressure with their financial situation.
"We thought we were struggling in Scotland but if you listen to some stories coming out of their club it actually sounds like desperation stakes - they need to get through.
"It would set us up fantastically financially if we did. But, I don't know if the stories are true, but I saw Mr Boumsong in the papers saying they had not been paid for a wee while.
"I think there is a lot of pressure on them. They have got some experienced players but they have made a few changes and they have some young lads as well."
Motherwell may be making their Champions League bow but players such as 22-year-old forward Jamie Murphy are preparing for their fourth European campaign.
"A lot of the lads have had European experience, and they talk about it and the staff talk about it," McCall said. "They have enjoyed it and the supporters have certainly enjoyed it. They were unfortunate on one occasion to lose out on the group stages in the Europa.
"Even though they are a young team they have had experience of it and that should stand them in good stead."