Neil Lennon amused by Charles Green "bigotry" comments
Last updated on .From the section Football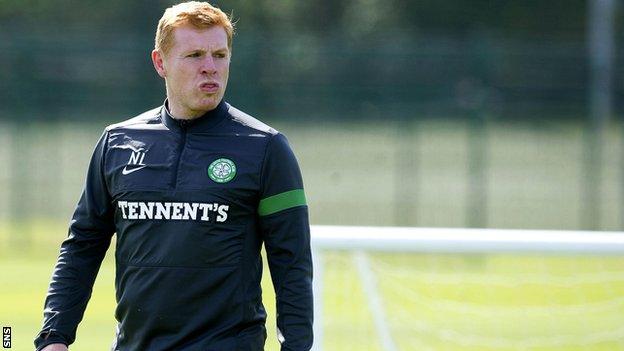 Celtic boss Neil Lennon has described Charles Green's assertion that bigotry within Scottish football played a part in the demise of Rangers as "funny".
"The club have said that it is not worthy of response," said Lennon. "I only read about it yesterday and I found it quite funny.
"He has only been here five minutes and he is calling us all bigots already."
Scottish Football Association compliance officer Vincent Lunny has written to Green asking him to explain his comments.
Chief executive Stewart Regan would not be drawn directly on Green's BBC Radio Scotland interview at the weekend.
But Regan did say that "some recent comments have been undignified and irresponsible".
Green's claims came when he was speaking as his new club started life in the Ramsdens Cup against Brechin City.
Before the extra-time win at Glebe Park, Green gave his verdict on the reasons why Rangers were denied entry into the Scottish Premier League.
"Some of it has been driven by bigotry, some of its been driven by jealousy and some of its been driven by all the wrong motives," he said.
Lennon was asked if he still saw Rangers as his rivals.
"Not this season, no," he replied.
"The remit is to win the title and it will be no different whether they are here or not and if we can advance on the European stage all the better."