Celtic Park holds no fears for HJK's Juho Makela
Last updated on .From the section Football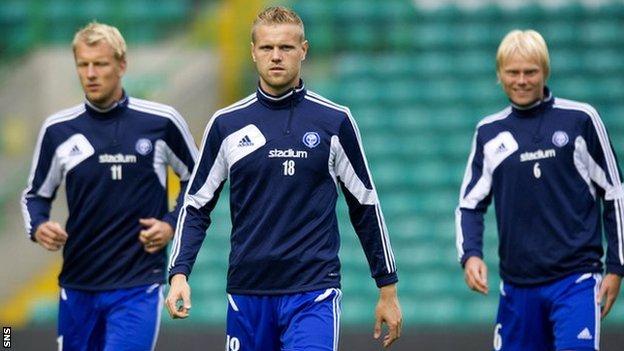 Former Hearts striker Juho Makela says HJK Helsinki will go into their Champions League qualifier against Celtic in relaxed mood.
"It should be a great occasion," he said of the third qualifying round tie. "But the guys are calm and the atmosphere is focused.
"We need to avoid errors, especially at the start of the game, as Celtic will try to apply pressure early on. If we can do that, our chances will improve.
"We need a perfect performance."
Celtic have yet to play a competitive game and their most recent pre-season friendlies resulted in a 1-0 defeat by Norwich City and a 1-1 draw with Inter Milan.
Makela was not too concerned about his own side's 1-0 weekend defeat away to Honko, a result that leaves HJK sitting second in the Finnish top flight, two points behind Inter Turku.
"Saturday's league match has been quickly forgotten and we have been studying the way Celtic played against Norwich and Milan," he said.
Makela has first-hand experience of HJK's opponents, having spent three years with Hearts, although he made only 23 appearances in three years with Hearts during his time with the Scottish Premier League club.
"Celtic won't be able to surprise us and it will all be about which team is able to handle the pressure of the big crowd, especially on the home players," he said.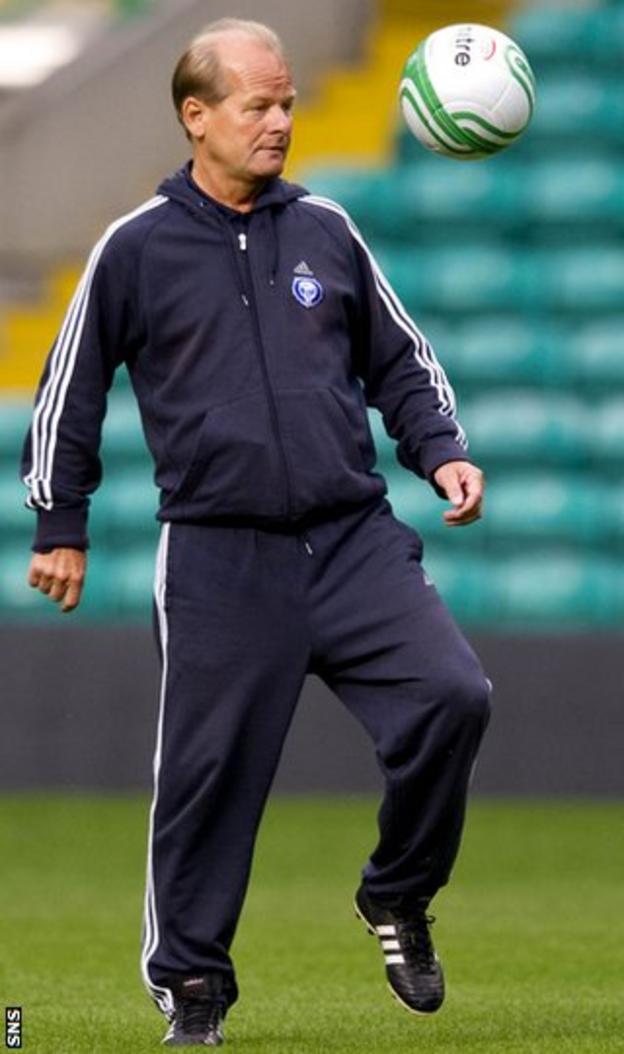 HJK coach Antti Muurinen insists his players will not be at Celtic Park to make up the numbers.
"I told the players that we didn't come all the way here to be afraid - 95% of our time should be spent talking about how we play and five per cent about the way they play," he said.
"There is no point in being in sport if you don't believe in victory.
"Of course we recognise that Celtic are a very strong, powerful team, but we have to believe that we have a chance to win, even if there is a great imbalance between the teams.
"It will be an exciting experience for us.
"We are not expecting any surprises from Celtic. Their tactics will be to crush us, which the fans expect.
"So I can expect the first 15 to 20 minutes to be the most important part of the game."
The Finnish side crushed KR Reykjavic 9-1 on aggregate in the previous round, have 19 league games under their belt.
"What could be an advantage is that we are well into our season, we have been playing games for months and Celtic are still in pre-season," added Muurinen.
"As I understand, Celtic Park can take 60,000 and that will obviously bring a lot of heat on my players, but I want to believe in my players.
"And we don't have the same have-to-win pressure on us as the home team, although people back home are waiting on lots of things from this game."