Andy Carroll: West Ham concede defeat in chase for Liverpool striker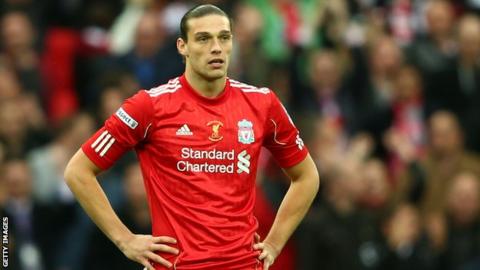 West Ham have conceded defeat in their bid to sign Liverpool's Andy Carroll.
Despite the clubs agreeing terms over a proposed £2m loan deal, the 23-year-old striker has told the newly promoted Premier League club that he has no intention of joining them.
Newcastle retain an active interest in Carroll but will not pay over the odds for the man they sold for £35m in 2011.
With the start of the new season less than a fortnight away, Carroll's future looks increasingly unclear.
The England international continues to train with the Liverpool squad as he seeks to overcome a minor groin injury.
It remains to be seen whether he plays any part in Thursday's Europa League qualifier against FC Gomel at Anfield with Liverpool going into the match with a 1-0 advantage from the first leg.
Uefa rules allow a player to represent one club in the Europa League qualifying round and another in the group stages.
That means Carroll could play for Liverpool during qualifying and still potentially play for Newcastle, who have secured a place in the play-offs.
Newcastle remain confident that if Carroll leaves Anfield he is interested only in returning to Tyneside.
Liverpool, who signed Carroll for a club record £35m in January 2011, have already turned down one Newcastle bid to re-sign the player.