African women need professional leagues - Nsekera
By Osasu Obayiuwana
BBC Africa Sport, London
Last updated on .From the section Football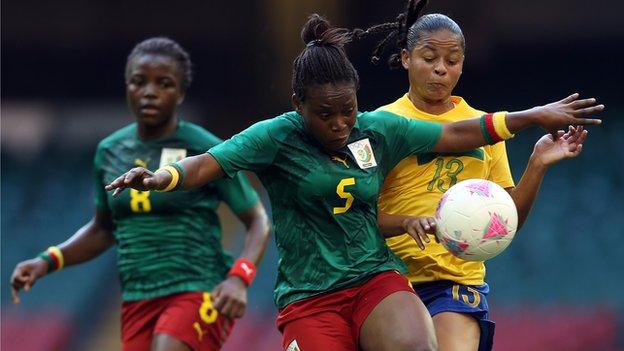 Fifa executive committee member Lydia Nsekera has called for the introduction of professional women's leagues in Africa following the continent's poor showing at the London 2012 Olympics.
"It is clear that without regular league competition for our women, throughout the continent, there is just no way our national teams will be able to effectively compete at tournaments like the Olympics," Nsekera told BBC Sport.
"They do not have the level of competition that can bring them to the needed level of performance. And they hardly have good friendly games, against top-quality opponents, with which to prepare for international tournaments."
Nsekera, who is also the president of the Burundi Football Federation and a member of the International Olympic Committee (IOC), continued: "All that is in addition to the fact that there is little or no funding for female football in Africa, compared to what the male teams get."
Africa's two representatives, Cameroon's Indomitable Lionesses and South Africa's Banyana Banyana, failed to make it out of their groups.
Cameroon lost 5-0 to Brazil, 3-0 to Team GB and 3-1 to New Zealand, while South Africa lost 4-1 to Sweden, 3-0 to Canada - although they did achieve a creditable 0-0 draw with world champions Japan.
"In Africa, there are people who even question the rationale for funding female football, " added Nsekera. "But I am confident that with the right encouragement, women's football will evolve and reach the level of the men.
"Since most African female footballers cannot concentrate on the game full-time and have other commitments, they are unable to give the sport the attention it needs. We need to change that," said Nsekera, who is the first woman in Fifa's 108-year history to sit on its executive committee.
Nsekera's views are shared by South Africa midfielder Kylie Louw.
"In South Africa, we have no regular competition. Most of the players are in school and others have other jobs. We do not concentrate on the game, like our colleagues in Europe. Just playing against some of the top players in the world was a privilege for us," she said.
South Africa women's football coach Joseph Mkhonza conceded that the Olympic stage was "too big" for Banyana Banyana.
He told BBC Sport: "We do not take female football in Africa seriously enough. African teams cannot compete against the top teams in the world if our players are not exposed to them consistently, in high-level games. We cannot wait for the Olympics and World Cups before we expose our players."
Fifa president Sepp Blatter also agreed that the performance of the female African teams at the Olympics was poor. But he told BBC Sport that he expected a rapid improvement once national federations across the continent took the game seriously.
"There are professional leagues in the north of the continent and this must also be done elsewhere," he said.
"I found it strange that none of them qualified [for the Olympics]. Proper organisation, domestically, for women's football is the key for getting better performances internationally."