Michel Kuipers pride at Brighton & Hove Albion testimonial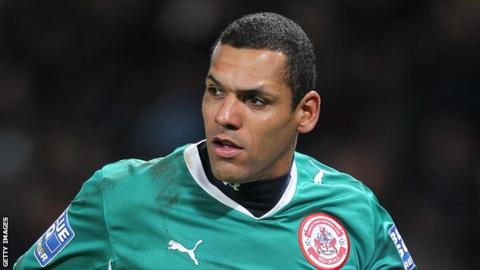 Michel Kuipers says his testimonial match for Brighton & Hove Albion at the Amex Stadium will be a proud moment.
Kuipers, who spent a decade with the Seagulls before joining Crawley Town two years ago, will feature against Reading on Tuesday.
The 38-year-old told BBC Sussex: "Bar my family, this football club is the closest thing to my heart.
"I've been bleeding blue and white for the last 12 years so this is a very proud moment for me and my family."
Kuipers joined the Seagulls on a free transfer from Bristol Rovers in the summer of 2000 and went on to make more than 280 appearances for the club.
The Dutchman was integral in the Division Three and Division Two title-winning sides in 2001 and 2002 and was part of the squad which won the Division Two play-off in 2004.
Kuipers built up an affinity with Albion's fans during his time in between the sticks, and hopes that the game against Reading will be a chance to thank them for their backing.
"I love the Brighton supporters," he said. "They've been absolutely fantastic to me and a lot of the times when we had our backs against the wall, they were the 12th man.
"Especially as a goalkeeper, I really appreciate them backing the team.
"I think people appreciated me because I threw my body on the line for the club.
"Over the ten years, with three promotions and some of the glorious cup victories we had - like the Manchester City game - I hope I repaid them by performing to the best of my ability.
"Against Reading, it will be a massive thank you to the fans."
When Kuipers joined Brighton, they were playing at the temporary Withdean Stadium and aiming to secure planning permission for a new ground at Falmer.
Planning permission was granted for the Amex Stadium in 2007, but the game against Reading will be the Dutchman's first appearance at the ground as he joined Crawley one year before the stadium opened.
"Playing at Falmer is something I dreamt about for years," he continued.
"When I signed 12 years ago, Micky Adams [then Albion manager] told me we'd be playing across the road in 18 month's time. These famous words are still going around in my head.
"Now 12 years later I'll be making those final steps.
"It's a great way to celebrate the journey."