Kilmarnock's Michael Johnston feels SPL is in better shape
Last updated on .From the section Football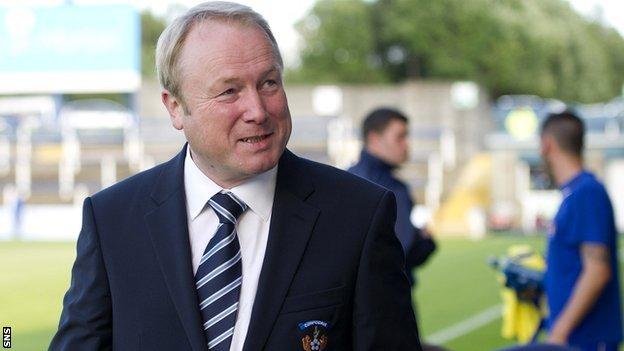 Kilmarnock chairman Michael Johnston believes the Scottish Premier League's new broadcasting deal with Sky will bring "some commercial stability".
With Rangers no longer in the SPL, there had been concern about the top flight's future income streams.
"The financial fall-out from that won't be nearly as great as it might have been," said Johnston, who is now on the league's board.
"The financial adjustments we're going to have to make aren't too severe."
Johnston, who revealed there are no planned changes to the SPL's financial distribution model or voting rights, admits there are still some financial challenges for clubs to overcome but is confident the league will attract sponsors.
"From a footballing perspective there's a lot of people still uncertain about how attractive the SPL will be without Rangers and Old Firm derbies but I'm sure we'll quickly dispel any concerns that they have," he said.
"We've got the Edinburgh derby, the Dundee derby, there's more interest up north with Ross County. In each area of the country, there's going to be plenty of competition and I'm sure the sponsors will find plenty to get excited about.
"Everybody's got Celtic down as firm favourites [to win the league] and that's understandable.
"It would be a huge surprise if they didn't win the title but second place is up for grabs and everybody will be trying very hard to do that and, in that process, Celtic may not find it quite as easy as people are thinking."
Meanwhile, Johnston, who praised SPL chief executive Neil Doncaster and Scottish FA counterpart Stewart Regan for their handling of the recent challenges facing the Scottish game, feels there is still room for two league bodies in addition to the SFA.
League reconstruction, play-offs between the top two divisions and the merging of the SPL and Scottish Football League were areas of discussion as clubs considered proposals to place the relaunched Rangers in Division One before the Ibrox club were eventually voted into the bottom tier.
"I've always felt that the SPL should be about full-time professional football, whatever the number of clubs that may be," Johnston added.
"It may not be 12, it may not be 20 but there's a number there that can sustain full-time football.
"There's room for another league organisation. Whether that should operate on a national basis as the SFL does at the moment or be a top division that's national and then regional divisions below that is a matter for the SFL.
"Play-offs have to come hand-in-hand with a better distribution of wealth throughout the divisions and there has to be more financial security in the league below the SPL.
"It's all about not facing total financial meltdown if you come out the wrong end of a play-off and find yourself relegated."