Portsmouth boss Michael Appleton seeks Balram Chainrai meeting
Last updated on .From the section Football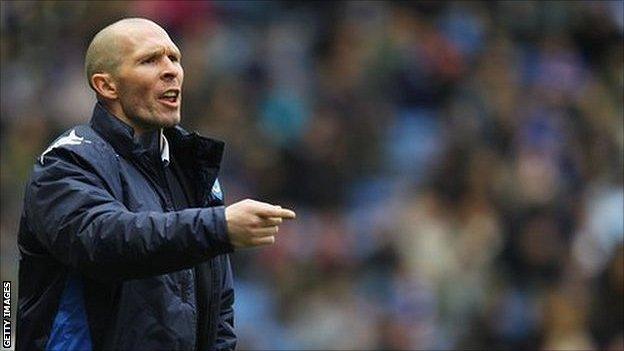 Portsmouth boss Michael Appleton hopes to meet prospective new owner Balram Chainrai this week with a view to signing new players.
Chainrai and the Pompey Supporters Trust are vying for control of the club which has eight days to avoid closure.
The three senior players left at the club must leave before the 10 August for the club to avoid liquidation.
But Appleton says he hopes an interim agreement can be reached with Chainrai to start bringing new players in.
"I think if the three remaining senior players left then obviously I would be given the green light to move straight away and sign players," Appleton told BBC Radio Solent.
"But I'd like to think over the next few days I would be given the opportunity to speak to Portpin [Chainrai's company] and come up with a different solution. I am coming at it from a different perspective and that's what I'm going to try and do."
Only Dave Kitson, Tal Ben Haim and Liam Lawrence remain at the club and all three players must reach compromise agreements - accepting a reduction in salary - or leave before Chainrai or the PST can bring the club out of administration via a company voluntary arrangement.
Until then Appleton and the triallists at the club are in limbo and Pompey's manager says he is desperate to get on with things.
"We've got a few players in on trial who are waiting for me to be given the green light so I can sign them," he explained.
"There are certain players in there I would sign very quickly. You've got to give them a little bit of credit for being so patient as they are desperate to get a contract.
"Next Friday is looming and we want to be in a position where we can get on with things."
The PST will reveal details of their bid to take control of the club on Thursday where they will unveil new backers and put forward a potential new chairman.
Appleton says he does not think a fans group taking control of the club would compromise the amount he has to spend in the transfer market.
"I'd like to think from the administrator's point of view, Trevor has put together the same business module for all parties interested in buying the club and that includes the Trust," said Appleton.
"So I would hope my transfer budget would not be compromised if they took over the club."