Pompey Supporters Trust makes Balram Chainrai offer
Last updated on .From the section Football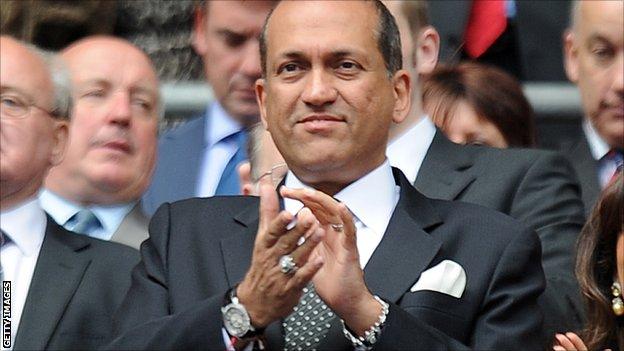 The Pompey Supporters Trust has offered Balram Chainrai £2.75m to buy Fratton Park as it made public its proposed bid to buy Portsmouth FC.
The Trust says it has raised £3m in pledges from fans with £1m on deposit already but has asked Portsmouth City Council for a £1.45m bridging loan.
And Iain McInnes was revealed as one of four significant investors in the bid.
If the PST takes control of Pompey, local millionaire businessman McInnes would become the new chairman of the club.
McInnes, 61, describes himself as a lifelong Pompey fan and has invested a significant six-figure sum along with two other businessmen Ken Terry and Chris Moth, who are venture capitalists in the city.
A fourth investor at this stage has been not been named.
"Mr Chainrai has been completely honest, he is a reluctant owner," McInnes told BBC Sport.
"He saved us once and says he will do it again but feels he has an issue this time around other creditors.
"He has said he would like to work with the Trust, and we want to work with him but we want to run the club in the long term."
It has also been revealed that a group of associate directors who have pledged five-figure sums includes Pompey legend Ray Crawford.
Portsmouth currently have three senior players left on their books and will need all three to leave or to reach compromise agreements if the club are to survive.
Those players are striker Dave Kitson, defender Tal Ben Haim and midfielder Liam Lawrence.
The PST told BBC Radio Solent in April it hoped to raise £8m to take control of the club from Chainrai, who has £17m secured credit on Portsmouth.
But having fallen short of that total, it has been forced to ask the council for a loan to enable it to buy the stricken club.
The PST has also offered £870,000 for the Company Voluntary Arrangement to bring the club out of administration with creditors receiving two pence in the pound.
As part of its bid it is also promising to pay all non-playing staff in full as well as football clubs owed money by the club.
It has also assigned £2m for existing football creditors for compensation and has projected the club will receive £11m from the Premier League in parachute payments.
The Trust has now urged Chainrai to meet with it so they can thrash out a deal to help it take control of the club.
Any move would also need the approval of administrator Trevor Birch, and McInnes has also urged for more transparency from him.
"If I had any criticism it would be that too many of the negotiations have been conducted in the press and maybe not face to face," said McInnes.
"We have also had limited access to the players and management team and we need that access and we need it quickly.
"My message to Chainrai is we will meet any time and place and we have far more chance of saving the club if we work together rather than apart."
Birch issued a statement to BBC Sport on Thursday saying he welcomed news of the PST's bid and promised to work with it to "find a solution that will satisfy everyone".
"We welcome the Trust's announcement and will carefully study the details of the proposal," said the statement.
"Now that we all know more about the Trust's plans, we will work with them and Portpin to see if we can find a solution that will satisfy everyone involved, including the unsecured creditors and the Football League.
"As court-appointed officials, it is our duty to explore all of the available options.
"In the meantime we will continue to talk to the remaining players to secure the compromise agreements."