Gabon coach rues poor preparation
By Osasu Obayiuwana
BBC Africa Sport, Wembley
Last updated on .From the section Football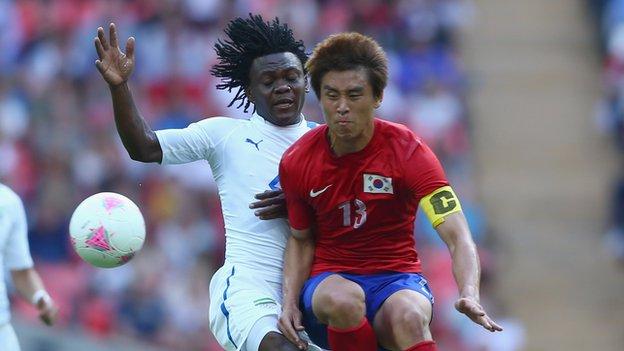 Gabon coach Claude Mbourounot believes insufficient preparation and a lack of concentration led to their failure to reach the knockout stages of the Olympic men's tournament.
A goalless draw against South Korea at Wembley on Wednesday meant Gabon were unable to match the achievements of Egypt and Senegal, who made it through to the quarter-finals.
Gabon finished third in Group B, having been beaten by Mexico and drawn with Switzerland in their previous two games.
"I am very disappointed to leave the competition this early. We had our hearts set on qualifying for the quarter-final. But we had very limited preparation," Mbourounot told BBC Sport.
"We need to have professional football in Gabon, that will produce a new generation of young players, who can take us further in continental and international competitions.
"It has been an interesting experience and we have learnt some lessons, most definitely. The first one is that the Olympic football competition is like a World Cup and if you do not take your preparation seriously, you will suffer."
The Central African side won the hearts of the 76,927 fans at Wembley, arguably the biggest crowd any Gabonese national side has played in front of.
"The crowd was exceptional, the way they cheered us on," Mbourounot said. "They pushed on, they lifted us, giving us the motivation to score. It is a shame that we could not pay the crowd back for the warmth they had extended to us.
"Wembley is a truly legendary football stadium. It is a great experience to play on this pitch, in front of such a large number of spectators."
Mbourounot was brutally honest about the state of football in his country and the continent, insisting that the attitude of those running its affairs needs a revolutionary change.
He said: "African football and Gabonese football, in particular, suffers from a lack of organisation and structure. We need to be organised… We are often frustrated by people and institutions that do not understand our administrative and technical needs."
However, he also delivered an indirect criticism of his players, Mbourounot indicated that some of them lost tournament concentration whilst staying in the Olympic Village.
"It is essential for athletes staying in the Olympic Village to remain focussed on the task that brought you to the Olympic games. It is so easy to be distracted, with all those fabulous athletes moving around," he said.
"When you play football at this level, you have to be honest with yourself and give absolutely everything that you've got, if you want to perform well."
As Senegal face Mexico and Egypt take on Japan in Saturday's quarter-final matches, Mbourounot is confident that African football remains strongly in the race to earn a medal from the games.
"It is quite possible, even probable, that an African team will win a medal," he said.
"African football has progressed enormously. It is becoming specifically African in its identity and with a move towards professionalism, our performance will continue to improve. I really wish our African teams well in this competition and I am sure they are capable of taking a medal back to Africa."
Since Ghana became the first African team to win an Olympic football medal, at the 1992 games in Barcelona, the continent has gone on to win their first gold, with Nigeria, at the 1996 Atlanta games, with Cameroon following suit in 2000.
Nigeria, who failed to qualify for the male and female football tournaments in London, came close to winning another gold medal at the 2008 games in Beijing, losing in the final to Argentina, who the West Africans had beaten in final of the 1996 tournament.