Ramzy proud of Egypt's progress into quarter-finals
Last updated on .From the section Football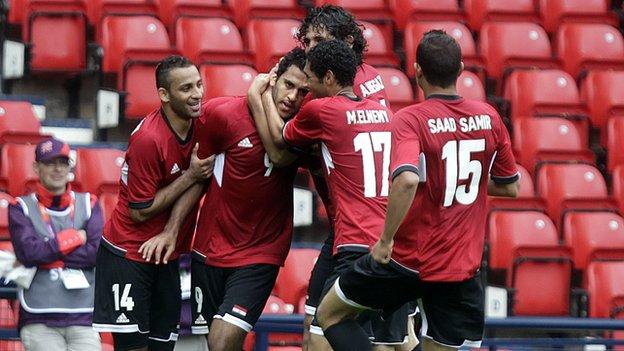 Egypt coach Hany Ramzy believes his side's progress into the quarter-finals at the London Olympics will have given their country a much-needed boost.
Domestic football in Egypt has been banned since more than 70 fans died in the Port Said tragedy and tension remains high in the country since the toppling of former President Hosni Mubarak.
Ramzy told BBC Sport: "Olympic success is very, very important. I talked to the players and said we will try to put a smile back on the faces of our people because it is a very difficult time in Egypt.
"I think the football can help to give the people some of the happiness they are missing in our country. That is our goal and we will fight to make history in London and win an Olympic medal for the first time."
After a tough start, when they were beaten by Brazil, Egypt have grown into the tournament.
Ramzy said: "Because of the situation in Egypt, we could not play any friendlies before the Games. We worked very hard to try to keep the players in good shape - they worked five days a week and had just two days or one and a half days to go back home.
"But our incentive to do well was huge, especially because Egypt have not played football at the Olympics since 1992.
"We are proud to be here and I am really proud of my players."
Egypt's younger players have been inspired by playing at the Millennium Stadium and Old Trafford and Ramzy revealed they all had their pictures taken at the world famous grounds.
But it is not just the new generation who are in awe of the Olympics.
"The Olympics was a huge incentive for everybody, even for a big player like Mohamed Aboutrika, who has won national titles with his club Al Ahly, but has missed World Cups and Olympics," added Ramzy.
"So when I called Aboutrika and also Emad Moteab and asked them to join our team they were so happy to be a part of it. It will always be on their CVs that they played in the Olympics.
"Now we have reached the quarter-finals and we will play Japan. We will give it our best and see what happens."