Peterborough back calls for safe standing at football grounds
Last updated on .From the section Football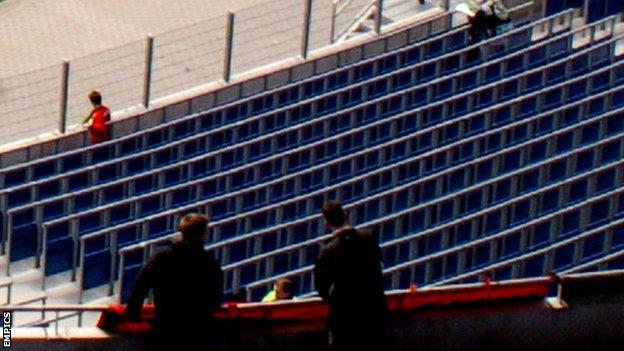 Peterborough are urging football's governing bodies to consider allowing the use of rail seats, which give fans the option whether to sit or stand.
The Championship club has given its backing to the Football Supporters' Federation Safe Standing Campaign.
And the club has offered its ground for an experiment with the tip-up seats like those used in Germany.
"If they wanted to use London Road as a pilot site, we'd be happy to oblige," said chief executive Bob Symns.
He recently paid a visit to German club Hannover 96 to see the seating first hand and believes they are a compromise for fans who want the right to stand and the game's authorities, who remain concerned about safety in the wake of the 1989 Hillsborough tragedy.
"I hope we can persuade the powers that be to look seriously at the rail seat option," he continued.
Terraces were banned following Hillsborough and a law introduced five years later requires grounds in the Premier League and Championship to be all-seater.
However, clubs promoted into the Championship from League One are given three years to bring their grounds up to standard.
Peterborough still have terraces at their ground but will have to become all-seater if they remain in the Championship after next season.
"Our existing terraces are safe and well-managed, but as of next summer they will be deemed unsafe.
"That's unless, heaven forbid, we went down, in which case they would bizarrely be deemed still safe to use," said Symns, in his programme notes for Wednesday's pre-season friendly against Aston Villa.
"Having see a new option in Hannover, I am convinced that a standing area fitted with rail seats would be even safer still and I cannot see any logical reason why we should not be allowed to build a new London Road end, incorporating such an area."
The FSF proposal calls for 15% of football grounds to become approved standing areas - 10% for home supporters and 5% for away fans.
The Scottish Premier League relaxed its rules on standing last year and other English clubs including Aston Villa, Arsenal and Derby have also indicated a willingness to consider proposals about how safe standing areas could be accommodated in their stadiums.
"The demand from supporters to stand is not going away and football clubs are expriencing all sorts of problems trying to manage that.
"We hope all parties can work together towards the sort of safe solution they've already found in Germany, Norway, Sweden and many other parts of the world," said FSF campaign co-ordinator Peter Daykin.