Cheers and tears: Two years in the life of Graeme Lee
Last updated on .From the section Football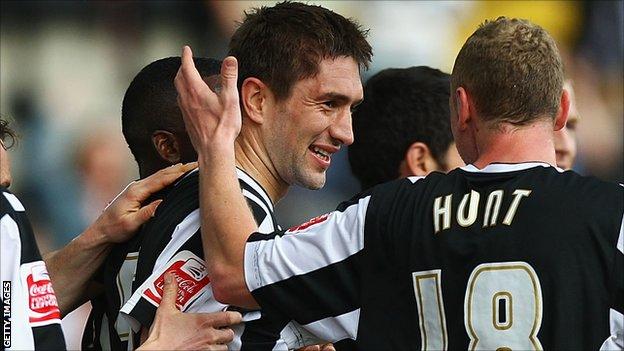 Graeme Lee is a veteran of 534 professional games during a 17-year career, but few of his footballing experiences could have prepared him for the last two seasons.
The Middlesbrough-born defender, 34, played under a former England manager and lifted a Championship at Notts County, before a move to Darlington saw everything possible go wrong.
Until January 2012, Lee and the Quakers were hovering below the Blue Square Bet Premier play-offs, but the new year brought about a serious injury, administration, relegation and the eventual liquidation of the club in its former guise.
"Last season football-wise was the worst season for myself, but the last few years have been nothing less than entertaining," Lee told BBC Sport.
Moving to Darlington was supposed to herald the final steps of his career, close to his hometown, coming after the crowning moment of his time in football with Notts.
Under a string of managers, amid ownership turmoil, the Magpies powered to the League Two championship.
"I loved it at Notts, I'd had four promotions but that was my first title," he said.
"It was one of the most entertaining years, I had never had so many meetings as we had off the pitch.
"In training you look to one side and you have Sven Goran Eriksson and Tord Grip stood there and you think 'what is going on?'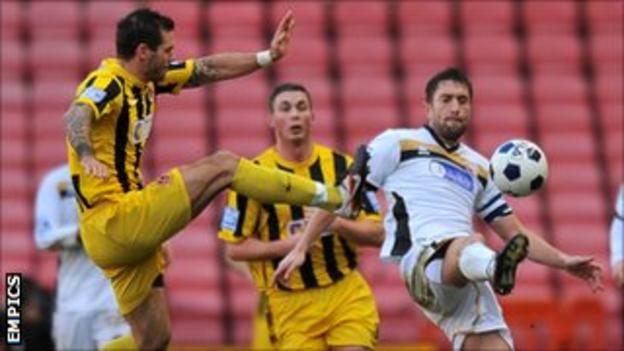 "But everything that went on off the pitch brought the lads so close together, and as much as there was some money shot about, it wasn't stupid it was quality players brought in.
"To win the league was amazing, and we won the league on Darlington's ground so it was nice because my family could see it."
It was sheer coincidence that the scene of that triumph would be Lee's next destination.
Under Mark Cooper the Quakers won the FA Trophy, and were among the favourites for promotion, all omens that bode well for the year to come.
However administration midway through the following campaign handed the squad a tough decision - stay without pay or leave.
It was a tough call for the players, some of whom, as Jamie Chandler and Liam Hatch, were quickly snapped up.
For Lee, the options were not so simple.
"Before coming I asked every financial question going, and the answers given to me were that the club whatever the league position was financially safe," Lee said.
"You commit to something and it turns around that it is not.
"I had the chance to move four times, and I could have jumped ship but I had already moved around and wanted to stick it out.
"Unfortunately I couldn't help the team because I was injured, we were losing good players and those players tried to stick it out but couldn't say anything because they have to pay mortgages.
"We were left with 16 and 17-year-old lads who despite being quality players you couldn't rely on them, there was too much pressure on them."
Prior to the last two seasons Lee built a reputation as a solid centre-half with Hartlepool, Sheffield Wednesday and Bradford City and Doncaster where his goal sealed silverware for Rovers.
"I had some great times at Doncaster, winning the Johnstone's Paint Trophy, but my last season was a nightmare,"
"I was injured for near enough the whole season, they got promoted so it ended on a good note but personally I didn't feel part of it.
"I'm fortunate I can go through most of my teams and have happy memories, I was at Hartlepool for eight years, and always look at them as my club.
"I had eight great years there, and Sheffield Wednesday were an immense club, at times I think I maybe spat my dummy out there.
"The low point was at Bradford, where I didn't have any success, there was a lot of expectation and it didn't work out as planned.
"Great club and great fans, but I didn't get promotion and thought it was a good base to achieve that."
Lee's fading hopes of a return to the professional game were put paid by surgeons following the most recent operation on his knee.
"The recommendation was not to go back into professional football," he said.
"So whereas a year ago I would have thought about another year before retiring, but now I'm looking to get fit, and I didn't want any pressure.
"I've had a bit of interest from some part-time teams, but you need your fix don't you? It's a lot to go from playing since I left to school to nothing.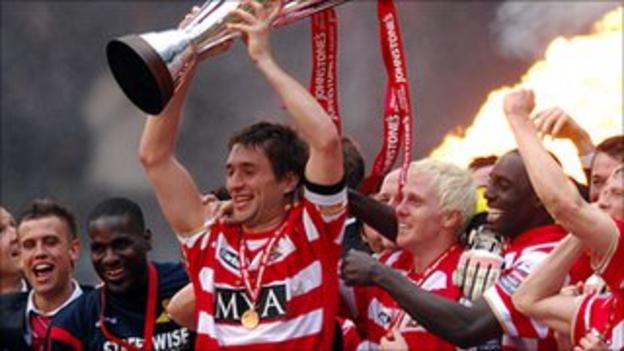 "I was lucky enough to get into Middlesbrough coaching, and that side I'm absolutely loving.
"That's a different world, even for the kids, the atmosphere is unreal and I'm there four times a week."
"My family look and think I could have played until I was 35, I could have stayed in the Football League," Lee said.
"If I was fit I could have done but this is what is happening, I want to enjoy myself, just had a child and life is good."